The 'A Very Murray Christmas' Trailer Is Here
Bill Murray and Sophia Coppola reunite for Netflix's Christmas special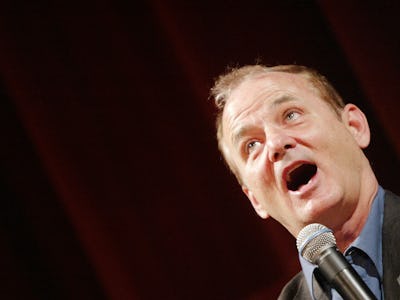 Getty
Netflix's original programming empire has already swallowed quality TV, kids shows, comedy specials, and soon, original films. Now, thanks to "A Very Murray Christmas"—with a trailer released today—they're coming for one of network TV's traditional forms: the star-studded holiday special.
The key to Netflix's original programming strategy is exclusivity—people subscribe to the service to get shows or movies they can't get anywhere else. Celebrity Christmas specials (Chris Rock! George Clooney! Miley Cyrus!) tend to be about as ephemeral as it gets. But in this case, it's reuniting Sophia Coppola and Bill Murray, director and star of beloved cult film Lost in Translation for their first project in over a decade.
In the first teaser for "A Very Murray Christmas" this connection was made very clear:
Not pictured in either of these trailers: what "A Very Murray Christmas Special" is actually about. According to Variety, it's "an homage to the classic variety show featuring Bill Murray playing himself, as he worries no one will show up to his TV show due to a terrible snow storm in New York City." The phrase "holiday spirit" is also mentioned.
So we've got Netflix expanding into holiday fare with a pseudo-sequel to Lost in Translation, a fake variety show that will probably also work as a real variety show, Murray reuniting with frequent Wes Anderson co-star Jason Schwartzman as well as a Parks and Recreation reunion for Amy Poehler and Rashida Jones, and a dry comedy about Christmas, the most earnest of the holidays. That's certainly exclusive. We'll have to see about watchable.