Here Are the Best Under-the-Radar U.S. Amusement Parks
Sure, you know Disney World and Cedar Point. But, have you ever been to Carowinds?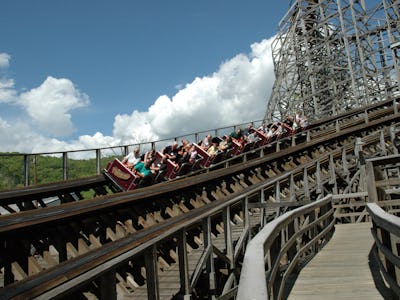 Every two years, Liseberg — a theme park in Gothenburg, Sweden — gives out the Applause Award. It's sort of like the Best Picture for amusement parks, but a park can only win one time. The award has gone to many familiar U.S. destinations: Cedar Point, Dollywood, Knott's Berry Farm, Holiday World, Hersheypark, Silver Dollar City, Busch Gardens, Universal and Disney have all taken home the statuette. So, what American parks haven't won, yet, and who stands the best chance when a winner is announced next winter? Better yet: What all killer, no filler park should you hit that's still under-the-rader?
The Boardwalk was an Applause finalist in 2012 — Ocean Park Hong Kong took home the prize that year — making it the best chance of a U.S. victory in '16. Reached for comment about U.S. amusement park prowess, Liseberg CEO and Applause Award chairman, Andreas Andersen, tells me, "I think we see a general globalization of the industry. A lot of fantastic facilities are being build — and developed — outside North America — but also outside Europe. The nominated parks the last years have really been from all over the world."
But Santa Cruz has a pretty special park on its hands. Built on Monterey Bay in 1907, it's the oldest surviving amusement park in California. Its wooden rollercoaster, the Giant Dipper, and the pipe-organ-boasting Looff Carousel are both on the U.S. National Register of Historic Places. And Santa Cruz Beach Boardwalk keeps it fresh with new rides like Undertow.
For all of these reasons, SCBB has won several honors at the Golden Ticket Awards, another amusement park accolade contest. That's right: Another one. (You can win multiple years at the Golden Tickets.) When I ask Golden Ticket Awards spokesguy Tim Baldwin for his take, he says, "For eight years in a row, Santa Cruz Beach Boardwalk held the Golden Ticket title for Best Seaside Park. The park offers a great mix of rides, but also embodies the perfect atmosphere for a beach setting. The Boardwalk is often noted for its character and charm."
Also, massive bonus daps to Santa Cruz for being one of the main filming locations for The Lost Boys.
Elysburg, Pennsylvania's family-owned Knoebels bills itself as America's largest free-admission park. That means you can just pay per-ride, the way it was founded 89 years ago. I ask Baldwin what makes it so special. "Knoebels has often been referred to by the park enthusiast community as the quintessential traditional park," he says. "It is a great mix of the old and new, and the Kneobel family has gone to great lengths to preserve rides from the past. As parks go, they offer a tremendous value, along with fantastic food and great rides. In our 2015 results, they actually ranked strongly against the power hitters as our #3 park."
And just this year, they introduced Impulse. Peep it:
Built on the border of both North and South Carolina in 1973, Carowinds dials down the family factor for more straight-up thrills. At one point, it was owned by Paramount and then Viacom. Now, Cedar Fair — the business behind the daddy of 'em all, Cedar Point, and a slew of other parks — is in charge. "Carowinds appears to be an up-and-coming player as Cedar Fair is investing heavily into this property," Baldwin tells me. "Fury 325 won Best New Ride this year and the whole park entrance has been redone. The expansion of the water park for 2016 further proves the effort to turn this into a multi-day destination." About that Fury 325:
For its part, the Golden Ticket for Best Park may well once again to Valravn-emboldened Cedar Point or, as Baldwin suggests to me, a Dollywood that's opening a new hotel and coaster. He also names Phantasialand, Kentucky Kingdom, and Six Flags Discovery Kingdom for go-to spots with new rides.
As for the Applause side of things, I ask Andersen if there's a best park of all time. "No," he says. "All parks are special. All nominees have been great parks, with their distinct qualities. I have my personal favorites, but the award really tries to summarize a number of relatively objective criteria determining the winner of the award." Here's hoping next year's winner is in the U.S. and, let's be serious, was the setting for this: