New Promo for 'The Flash' Offers Clues about Awesome 'Earth 2' Cameos
Is there an Earth 2 Arrow, Atom, or Huntress?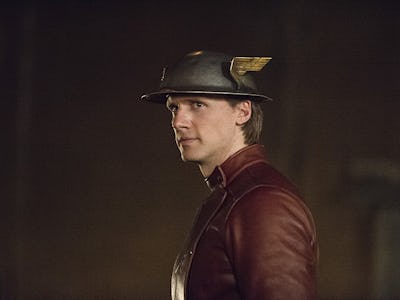 The CW Networks
At the end of last week's The Flash premiere, Jay Garrick waltzed into S.T.A.R. Labs with an ominous warning: "Your world is in danger." His presence alone signifies something terrible — and kinda awesome — is happening.
In a new promo for The Flash posted today, Executive Producer Gabrielle Stanton extrapolates on Earth 2's introduction into the DC TV universe and the possibilities the existence of a parallel planet brings. Make no mistake, it's still dwelling on Jay Garrick, so don't expect anything on the scale of Infinite Crisis in the immediate future.
But by specifically mentioning Earth 2, characters and possibilities from the comic books can now be explored every Tuesday night before iZombie.
And by possibilities, we mean "totally bonkers, world-destroying team-ups and galactic war."
Earth 2 is an identical Earth that has its own superheroes and villains. That's the premise of the entire Multiverse, which has a collection of similar universes but destinies and fates (or just costumes, really) took a left turn instead of right.
But that just means more superheroes! Or radical versions of them. Instead of Helena Bertinelli, could we see Helena Wayne as Huntress? Will we see what Earth 2 Oliver Queen is like? How about Albert Pratt, the Earth 2 Atom? Unlikely — but it's fun to think about.