What's the Most Offensive Book You Can Buy on Amazon?
You just got your Prime membership. Time to put it to use.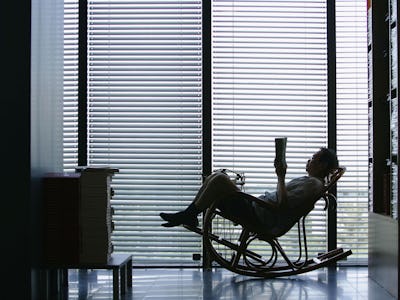 Getty Images
Say your mother-in-law is coming to visit and you're itching for a divorce. Say an old high school buddy is planning on staying three nights on your couch and you want to get rid of him after just one. Say your house is for sale but you don't really want to leave. Amazon's got you covered! The world's largest marketplace is, appropriately, chockablock with intellectual works you wouldn't want people to know you're reading, any more than you'd want your grandmother to see your Google search history. Pop one of these bad boys on your coffee table and watch the fireworks fly.
Runners-up
In case you're one of those naysayer types: This will always be so offensive. If you really want everyone to hate you, go for this "Official Nazi English Translation" with a giant fucking swastika on its cover. "Never Before Published Outside Nazi Germany!" it exclaims. Holy shit. I'm definitely on some kind of government watch list for my Amazon searches now, by the way.
God, Guns, Grits, and Gravy by Mike Huckabee
Fuck this joker for that back catalog alone. Do the Right Thing?
The Skeptical Environmentalist by Bjørn Lomborg
This dude tries to rail against climate change. C'mon, bro.
Dr. Atkins' Diet Revolution by Robert C. Atkins
Carbs for life.
The Anarchist Cookbook by William Powell
Yep, that's the FBI knocking on my door.
Fifty Shades of Grey by E.L. James
No, not offensive because of the bondage; offensive because of the awful writing. When you Google "poorly written bestsellers," it's a Fifty Shades fiesta. Bonus points for spawning a terrible movie, too.
The Very Hungry Caterpillar by Eric Carle
This dude eats everything. No wonder there's an obesity problem in this country.
The Most Offensive Book You Can Buy on Amazon
The Turner Diaries: A Novel by Andrew MacDonald
In this novel, a resistance to the U.S. government ends up nuking New York and, then, getting more offensive from there. Timothy McVeigh used to sell this pile of garbage before he bombed Oklahoma City. My favorite Amazon review title for this one is: "Fun book. And yes, I know it's racist." This is like Lolita for domestic terrorists.