'Arrow' Season 4 Trailer Is Only Kinda New
Oliver Queen's crusade in Star City is far from over.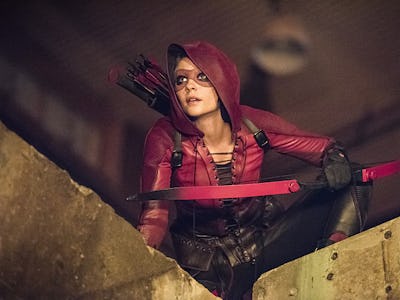 The CW Networks
As the news and interviews from this weekend's New York Comic-Con trickle out and spill onto the internet, so do the new trailers screened for the lucky hundreds that weren't left out of the crowded panel rooms like yours truly.
Arrow's sizzle reel remained almost the same from the trailer released at Atlanta's Dragon Con with a few spoilers, like Captain Lance's reluctant allegiance to Damien Darhk added in. There's also Felicity discovering Ray Palmer is still alive, more of Sara Lance's resurrection and fighting alongside Laurel, the return of Nyssa al-Ghul and Malcolm Merlyn, new villains Anarchy and Double-Down, and Curtis Holt just being his old self before he becomes Mr. Terrific.
So, maybe it's not all the same.
As a fun experiment, try watching that with the Dragon Con trailer alongside the New York Comic-Con reel. You'll spot interesting differences like color correction changes, which typically come with the territory of TV production. It's worth noting that during Dragon Con, they were adamant about selling the show as more "fun" and light-hearted. The sunnier tint in that trailer is remarkably polarized against the paler New York version.
Arrow airs Wednesday nights at 8 p.m. on The CW.