NYC Wants to Replace Subway Cards With Smartphones 
by Sam Blum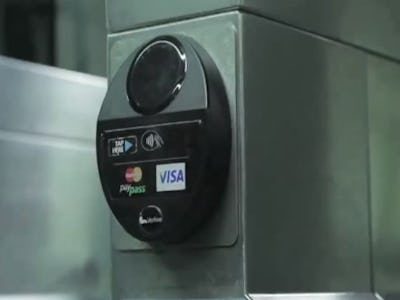 screen shot from YouTube
Announced in New York City's newest budget for its beleaguered Metropolitan Transportation Authority (MTA) is the rollout of a touchless tap & go fare payment system that will allow commuters to use their smartphones instead of flimsy, plastic metro cards.
This innovation might prompt a slight glimmer of hope for the future of public transportation in places like New York, where ridership is at all-time highs and riders queue up at the turnstiles because of slow-swiping tourists or other malfunctions.
The MTA is calling it "contactless" fare payment technology, and although not much is known about it so far, the practice will apparently "work with smartphones and across [MTA's] entire network." Additionally, the MTA boasts that the "tap and go" format of contactless "promises to transform travel in the region much like the MetroCard did when first implemented." The MTA discontinued the token system in the spring of 2003 on subways (and at the end of that year for buses).
The contactless initiative could dramatically streamline the process of paying subway, train, or bus fare. The program actually intends to modernize public transportation, which is either ravaged from overuse, or languishing from a lack of funding in many American cities.
According to the MTA's 2015-2019 Capital Budget Program, only $250 million of the staggering $19 billion package will be allocated for the contactless initiative, but that's likely more than enough to develop a simple smartphone interface and to outfit New York's subway system with new turnstiles.
The contactless program would put New York's MTA system on similar ground to the London Underground, where commuters wield a tap card detected by a sensor. There are similar metro cards that function with a tap in various cities, notably Los Angeles, but the only developed smart phone applications for public transport systems usually just track train movements. Chicago's Transit Authority has a multitude of apps for example, but many of them just do the same things.
The idea of contactless fare payment was first piloted in 2010, through a joint-project with Visa, and by the looks of this video, it seems to work pretty well.