Elon Musk Doesn't Hate Apple After All
The billionaire clarifies his stance on the competition.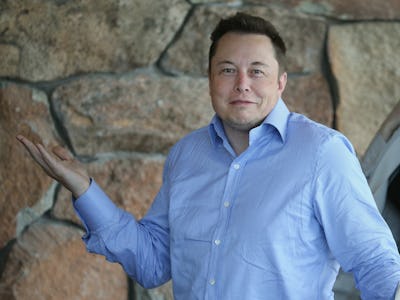 Getty/Scott Olson
Elon Musk, technical whiz, inventor, engineer, billionaire, and… Apple hater? Not so, says Musk via Twitter.
A few weeks ago, a controversial interview was published in the German newspaper Handelsblatt, wherein Musk took a bite out of Apple. He joked that Tesla employees have deemed it the place where failed Tesla engineers end up.
When asked if he's losing any sleep over some of his former engineers setting up shop at Apple, Musk didn't mince words: "They have hired people we've fired. We always jokingly call Apple the 'Tesla Graveyard.' If you don't make it at Tesla, you go work at Apple. I'm not kidding."
Way harsh, Tai.
Musk went on to say that he doesn't necessarily consider the iPad manufacturer a true competitor to his car team at Tesla. He explained that he didn't find Apple's new pencil and iPad upgrades very inspirational in comparison to the advances Tesla has made in the automobile industry.
Now, it looks like Musk has had a change of heart. He clarified his feelings about Apple on Twitter, writing that he's happy to welcome his "competition" to the electric vehicle frontier.
Apple's ambitions in the auto industry means their car could hit the road in less than five years. Let's hope this tech rivalry leads to some truly cutting-edge innovations that make the world a little less reliant on fossil fuels.