There's 'Pride and Prejudice and Zombies' In This Trailer
It's pretty much what you'd expect.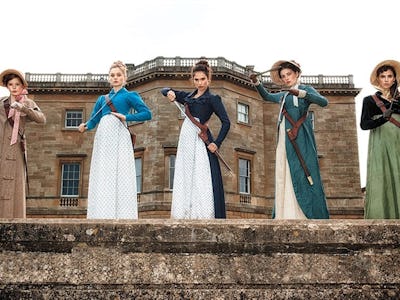 The first Pride and Prejudice and Zombies trailer has arrived, bringing a touch of class to the unrelenting zombie explosion. Drenching the corsets of its aristocratic figures with splattered brains of the undead; this is Austen via way of Romero.
Based solely on this one-minute teaser, the movie lives up to its namesake. There is pride, there's a spot of prejudice and then there's a load of zombies. "To succeed in polite society, a young woman must be many things: kind, well-read and accomplished," harps the returning, reimagined heroine Elizabeth Bennet, moments before she starts slaying zombies.
Lily James is a spot-on piece of casting, playing the role of Austen's most revered heroine without an ounce of nudge-nudge 'knowing' at her contemporary circumstance. The work of director Burr Steers (of Igby Goes Down fame) whose play-it-straight tactics author Seth Grahame-Smith addressed earlier this year at Comic-Con. "Burr totally understands the tone of this absolutely ridiculous, stupid film," he explained, "and that the only way to go at it is without ever once winking at the audience."
With such a ridiculous, stupid title, this is a film that feels as though it really should. Pride and Prejudice and Zombies opens on February 5, 2016.