'Empire' Episode 3: Inside the Show's Shaky Music Industry
The second season of 'Empire' is already off the rails with handling the realism of the music industry depiction.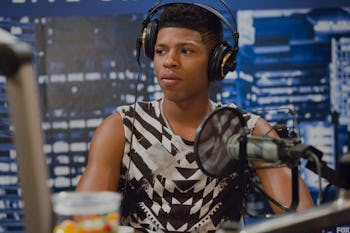 Fox
A few episodes into the second season of Empire and the business elements of the show are going even further off the rails than they did at this point last year. There are artists jumping between labels, music being recorded in jail cells, executives backstabbing each other. The show's gotten so out there with these music industry leaps, we wanted to highlight a few of the most ridiculous—or simply Empire—moments of the season so far.
The Quick Rise of Lyon Dynasty
Last week Lyon Dynasty ended with Hakeem and Cookie cleaning up a warehouse somewhere in Queenslyn, New Chicago York City, then this week it is a fully done up office with a whole cast of employees whizzing about and making moves. Not that they couldn't afford to do that, but even if they took artists from Empire, Hakeem leaked his album so they aren't seeing any income from that and they've now created new artists of their own. Time is fluid on television shows quite often, but from episode two to three Lyon Dynasty grew about five years while everything else moved forward two weeks. This is the pace of Empire.
Everything Sway Did Last Night
The thing about Sway last night on Empire wasn't that he was on the show, but more so he was playing a slightly off version of himself. The egging of Lucious and Hakeem and general desire to fan the family drama flames made him feel more like Charlamagne the God, than Sway. Not that Sway couldn't act out of character, but if people are going to be playing themselves it would be nice if they kept to the character of themselves.
Lucious' Recording "Snitch Bitch"
The fact that Ludacris played a rapper hating CO was already pretty amazing, but to then have Lucious record a full song while in jail, too much. Too much. Still just accepting that Lucious could record in jail, how did it get to radio within hours of being recorded and become a hit song? That Lyons touch really does work wonders.
Empire Records Owns Urban Radio
This was probably the most ludicrous subplot of the season so far. At the end of last night's episode, Lucious reveals that he bought up a majority share of Urban radio stations in the United States, thus meaning that Lyon Dynasty artists won't be able to play on the radio. The slow death of the radio business might make this an eventual reality, but the idea of a just out of jail record label exec pulling off this move feels ridiculous. And the main point is just to screw over his son and ex-wife. Oh, Empire.
Pitbull
Nothing was ridiculous about Pitbull, he was perfect. Bless Pitbull.