Rick Moranis Turned Down a Cameo In the New 'Ghostbusters' Movie
We're still holding out hope for 'Strange Brew 2' or 'Honey, I Shrunk the Grandkids.'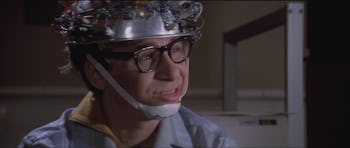 YouTube
Hey, remember Rick Moranis? He's the guy in basically all of your favorite comedies growing up who essentially vanished from the big-screen after making 1997's Honey, We Shrunk Ourselves. Well, he's back…kind of.
The Hollywood Reporter caught up with Moranis to check in on his absence, only to find that he hasn't been all that absent. Moranis actually took an 18-year hiatus after his wife, Anne, tragically died of breast cancer in 1997. Moranis then focused on raising his two children. Both are now grown, giving Moranis the itch to get back in front of the camera.
Reflecting on his time away and his possible return, Moranis said:
"I took a break, which turned into a longer break. But I'm interested in anything that I would find interesting. I still get the occasional query about a film or television role and as soon as one comes along that piques my interest, I'll probably do it. It wasn't a formal decision. It began in an already busy year where I declined a film that was being shot out of town as the school year was beginning. But I was fortunate to be able to continue to make a living writing and doing voice work in Manhattan."
Moranis fans still holding out for Strange Brew 2, Little Giants 2, or Spaceballs 2 can keep up hope, but anybody looking for a Louis Tully cameo in director Paul Feig's upcoming Ghostbusters reboot will be sadly snubbed:
"It just makes no sense to me. Why would I do just one day of shooting on something I did 30 years ago?"
Moranis is now the first in a long line of original Ghostbusters actors to turn down an appearance in the update starring Kristen Wiig. Currently, Dan Aykroyd, Sigourney Weaver, Ernie Hudson, and World's Funniest Human™ Bill Murray all filmed cameos. Murray gave a fairly credible reason why he decided to pop up in the new movie, saying, "They are tough to say no to."
But Moranis has a good point saying no. Rehashing ideas from 30 years ago doesn't achieve anything constructive, and Moranis seems like the kind of guy right now that wants to keep doing original things. That's a more commendable stance than most. He surely isn't in it for the money, otherwise why would he make country-tinged comedy albums like 2005's The Agoraphobic Cowboy or 2013's My Mother's Brisket?
Later on in the piece, Moranis tells THR, "I'm happy with the things I said yes to, and I'm very happy with the many things I've said no to."
Fingers crossed something comes along soon to pique his interest so he can say yes again.