Cardboard Lexus Is Beautiful and Drivable (Slowly)
A London firm combines art, design and engineering for its coolest project yet. 
by Sam Blum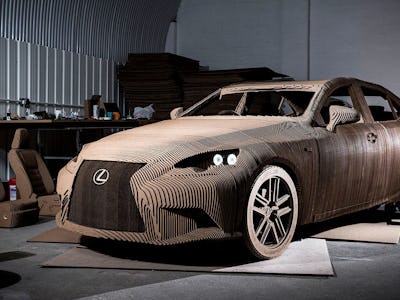 Lexus UK
It looks far more beautiful on the street than it would handling turns and navigating busy intersections, because this version of a Lexus IS Sedan is made from 1,700 sheets of cardboard.
Scales and Models of London, a boutique design firm based in — you guessed it — London, built the car at the request of Lexus, a carmaker that apparently needs the closest thing to an origami-rendering of a $37,000 sedan.
In all seriousb though, the first ever origami car, which was compiled by Ruben Marcos from Scales and Models of London, along with Daniel Ryan, from the company Laser Cut Works, is a surreal feat of craftsmanship. They took humdrum material in cardboard — which is really trash, when you think about it — and spent three months gluing 1000 layers of the material on top of a steel and aluminum frame, which conceals an electric engine.
The process is explained in full below.
The sharpness and vivid feel of the car's interior design — which looks more like woven straw or wood than cardboard — was honed by Ryan, who trimmed sheets of the material using a laser.
It's obvious that Lexus has no intention to make the rather rickety origami mobile street-legal, although it is kind of cool they've commissioned a work of art, if the car is supposed to be treated as such.
We've reached out to Marcos' team at Scales and Models about the project to see what they make of the attention their car has gotten, and if they consider their project art, innovation, or both.