Batman, a Virgin, and 'Beasts of No Nation': This Month's Netflix Picks
Here are choice cuts of what's being added to the streaming service's intimidating catalogue.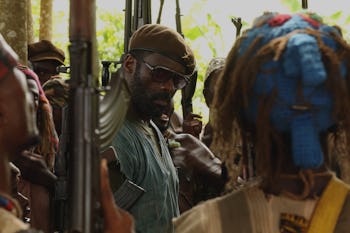 Netflix
Netflix is a vast and complicated landscape — without a map, you might waste time looking for a good way to kill time. Here are some the highlights to protect you against Netflix-itis this month.
1. Beasts of No Nation
Netflix's first foray into original film production is getting notice. It premiered at the Venice Film Festival, then screened at Telluride and Toronto, where it was received with rapturous applause. It's a fascinating experiment for Netflix, who has already broken through the TV barrier to be one of the first streaming platforms with award-winning original programming. Director Cary Fukunaga's movie about child soldiers in Africa carries the same sort of gritty realism that Fukunaga brought to his feature debut, the Spanish-language Sin Nombre, and to the first season of True Detective. Tune in when it drops on Netflix on October 16.
2. Batman Begins
What else could be said about Christopher Nolan's influential, controversial, ridiculously lucrative Batman series? It turns out a lot has been said about the second and third installments, but people seem to overlook Nolan's humble superhero beginnings. Batman Begins is like The Terminator, a well-liked entry into a long-running series that was grossly overshadowed by the movie that came after it, and even the bloated third entry. But there's something admirably small-minded about Batman Begins. With Nolan coming off of Memento at the time, it represents a nascent look into what it took to become one of the biggest (read: most-loved or most-hated) filmmakers in the world. Plus you get to see the origin of Christian Bale's weird Batman voice.
3. Ain't Them Bodies Saints
Director David Lowery broke on to the indie scene with this 2013 southern gothic drama about a criminal couple becoming parents while trying to stay out of jail. When it premiered at the Sundance Film Festival, reviewers positioned it as a throwback to poetic '70s tales of down-on-their-luck people on the run — like Terrence Malick's Badlands and Days of Heaven, or Bonnie and Clyde. Lowery has been quiet of late, but he's directing a big budget Disney remake of Pete's Dragon for release next year. The quasi-bizarre curveball of his next movie should get people interested in seeing where he started, even if the movies probably have little in common.
4. Jane the Virgin
The CW's earnest re-tooling of a Venezuelan telenovela has gained lead actress Gina Rodriguez a Golden Globe for her performance in the title role. It's also a show regularly cited as an unsung gem among large swaths of terrible reality shows and network pap that dominate TV talk. As Netflix is wont to do, it's rolling out the first season of the show to get viewers caught up before Season 2 premieres on The CW on October 12.
5. Tremors 5: Bloodline
It's October, so load up on terrible horror movies before Halloween. Netflix is rife with so-bad-they're-good horror titles, so why not start with the fifth installment of the impossibly prolific Tremors franchise? Tremors 5: Bloodlines has everything you'd expect from cheap direct-to-video horror movies: aging actors from the original, aging former stars, low production values, and terrible special effects. Who knew that an early '90s movie about gigantic predatory worms could last this long?