Social Media Roasts Flooded S.C. Gov. Nikki Haley for Climate Change Denial
So what happens when a thousand-year flood hits a state that denies climate change?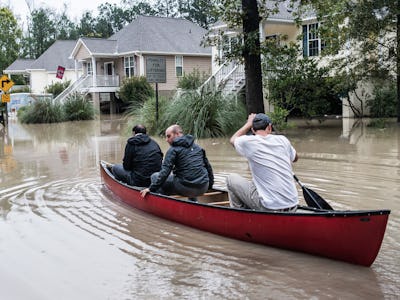 Getty
Gov. Nikki Haley declaring South Carolina under a state of emergency due to "historic" rains has inspired a healthy dose of schadenfreude from those who say she buried evidence of climate change last year.
News broke in 2013 that the South Carolina Department of Natural Resources failed to release a report on how climate change could endanger the state. Former wildlife chief John Frampton told media that the report showed rising temperatures would certainly affect the state's landscape and wildlife, even making its water suitable for piranha, which sounds badass to everyone not living in South Carolina. "I would liked to have seen the DNR be a leader," Frampton told The State. "I would have liked to have positioned our staff … on this. We have experts in the agency to assess climate change."
As The State reports, most of those board members were named by Gov. Haley after her 2010 election. Haley's official stance should be that we should focus less on the cause of climate change and more on solutions. If only there were some ideal phrase, not too on the nose, that could compare South Carolina's refusal to acknowledge the science behind climate change or prepare for historic rains to, I don't know, some ideal relationship between moisture, unstable air, and lift resulting in atmospheric disturbance. ¯_(ツ)_/¯
So you can understand why so many Haley opponents are hoping her emergency announcement that the state was experiencing "1,000-year level of rain" could be a teachable moment.