Hurricane Joaquin Starts to Cause Damage in the Bahamas
Virginia and New Jersey declare states of emergency.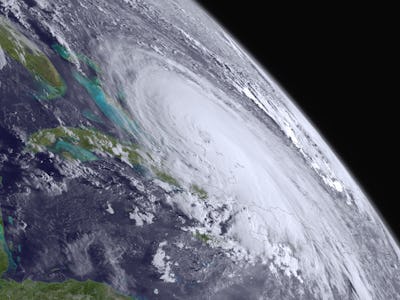 NOAA via Getty Images
Hurricane Joaquin continues to strengthen as it makes its way through the Atlantic Ocean.
As of 8 a.m. EST, Joaquin hit the Bahamas. Once thought to be a Category 2 hurricane, Joaquin has been deemed a Category 3 storm and could soon become Category 4, the Weather Channel reports. Now, according to NBC News, Virginia and New Jersey have declared states of emergency, in preparation for the coming storm.
Caution is the correct move after seeing the damage Joaquin did to the Bahamas this morning.
The forecasts don't seem much rosier.
The National Hurricane Center is still not sure when, where, or if Joaquin will hit the Atlantic Coast. The Center's best projection, though, is that it'll reach North Carolina by Monday. Joaquin is proving itself to be both unpredictable and dangerous. The sooner the storm dissipates the better.