Don't Panic About Hurricane Joaquin ... Quite Yet
The storm is picking up offshore, but it's not yet clear how it will hit us.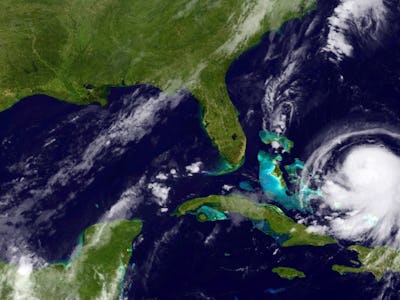 NOAA via Getty Images
Hurrican Joaquin is poised to be the next great natural threat to America's East Coast. Or it's poised to be a lot of sturm und drang for Bermuda. With projections so sketchy, it's not quite something to worry about yet.
Chances are, if you live somewhere along the Atlantic seaboard, you're already feeling the effects of the weather system: heavy rain. That's called a "predecessor rain event," which is "sustained by deep tropical moisture" from the storm; it's basically what it sounds like.
Reports vary on when Joaquin will hit the East Coast, or if it will at all. The National Hurricane Center is cautiously forecasting it as staying in the Atlantic through the weekend. If it touches land, it might not be until Monday in the Northeast. North Carolina's WRAL-TV, however, is preparing for earlier and harsher land contact, which is appropriate since North Carolina is likely to be the first state to encounter Joaquin head-on. The station is warning that the storm could reach Category 2 status, but off the coast.
As scary as it sounds (and likely would be), early landfall may turn out to be a favorable scenario for Joaquin. Hurricanes weaken once they're not drawing power from solar-heated evaporating ocean water and unfettered winds. Having a relatively modest hurricane tucker itself out might spare a nastier possibility: that a bigger, stronger 'cane could gear up before swerving into Washington, D.C. or Baltimore or Brooklyn.
Hurricane Joaquin will become a truly major threat if it stays close to the coast but not on land. The potential for damage will be at its highest from Sunday into Monday. Warnings are expected soon. For now, stay ready, but wait and see how Joaquin develops offshore.