'The Forest' Trailer, for MTV's First Horror Movie, Looks Pretty Decent
Natalie Dormer, homages to 'Evil Dead,' and the guy who wrote 'Dark City' are all good signs.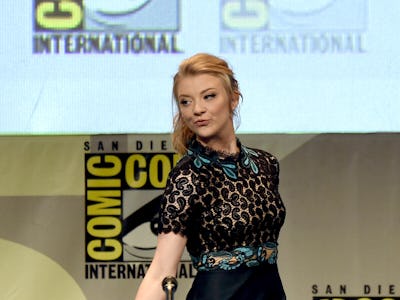 The trailer for MTV's attempt at a horror movie, The Forest, has just dropped, and it doesn't look nearly as bad as you'd think.
It may be brought to you by the studio behind Beavis and Butt-Head Do America, but the guy penning the script also did Batman Begins and the fascinatingly odd Dark City. He's also doing a tiny little movie that nobody cares about and you definitely haven't seen the internet freaking out about, Batman v Superman: Dawn of Justice. As a writer, he excels at atmosphere, mood, and pacing. From the trailer alone, you can tell he had classics like Evil Dead and Blair Witch Project in mind.
And The Forest's star, Natalie Dormer — who most of you know as Margaery Tyrell from Game of Thrones — not only has the slyest of sly smiles, she's a consistently great actress. In The Tudors, she was often conniving and unlikable as Anne Boelyn, and yet, Dormer's silent emoting made her execution scene far more emotional than it had any right to be on such a pulpy show.
Oh, sorry. Spoiler alert. Anne Boelyn dies, btw.
Much like that scene in The Tudors, MTV's attempt at a horror movie is looking, at the very least, to be far more interesting than it has any right to be.