IKEA Bed Hack Dad Says It Was a 'Prime Opportunity to Try Something Creative'
IKEA Hacks are ubiquitous, but this one is pure genius. 
by Sam Blum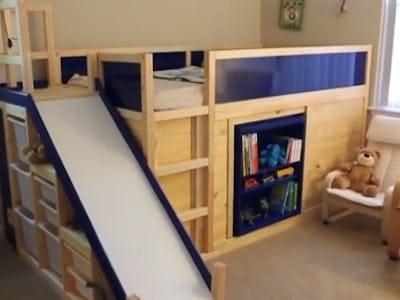 screen shot/YouTube
Everyone loves personally tailoring their IKEA furniture, so much so that the practice of stripping down their easily-assembled furnishings and reconstructing them with individual flare has garnered its own colloquial expression. IKEA hacks are common, but not all IKEA hacks are quite as inventive as the tricked-out, wonder-bed that Stanford University Medical Professor Eric Strong made for his young son last year.
Strong made a play-by-play video that details how he used two IKEA Kura beds, a Trofast storage shelf, and a Besta shelving unit to make his son the holy grail of childhood sleeping centers. The D.I.Y. masterpiece boasts a slide, toy pulley and crane, ball run, and secret door that leads to a hidden room illuminated by soft, ultraviolet light.
Strong's video, which has been gaining a torrent of traction via a recent Reddit thread, elucidates one thing: that Eric Strong is the ultimate IKEA hack Dad.
Strong says he stumbled across a helpful website that gave him a few solid ideas for IKEA furniture conversions, but what really inspired him was the thought of giving his son "the most awesome bed ever," as per the four year old's request.
"When my son seemed bummed out that we needed to pass on his convertible toddler bed to his younger sister, and we needed to get him a new bed anyway, that seemed like the prime opportunity to try something creative," Strong tells Inverse.
Strong, being the ultimate IKEA hack Dad and all, is pretty fond of the Swedish furniture manufacturer. He says there's no guilt involved in the dissembling, sawing, and repurposing involved in a genuine IKEA hack.
"I think most people would feel guilty, or at least apprehensive, about hacking apart a $500 top-quality bookcase, but a $30 one from IKEA?"
Strong's also posted an FAQ piece that answers the questions around his newly popular video, which has 2.1 million views as of this writing.
Strong tells Inverse in an email that he's got some other plans when it comes to building more labyrinth-like contraptions for his two kids.
"I have a couple of ideas for more kids-related IKEA hacks and other science-inspired/mechanical contraptions (my son is also a fan of Wallace and Gromit), but we'll need to wait until him and his sister are a couple years older."
What a dad.