These Silicon Valley Tech Giants Love Kevin McCarthy
The California Republican is known for catering to the same tech companies pulling for immigration reform.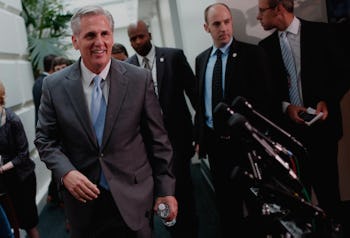 Getty
It seems all but assured California Representative and current House Majority Leader Kevin McCarthy will be the man to replace John Boehner as Speaker of the House. Assuming he does, his career will be an investment that's proved out for the Silicon Valley firms who were early McCarthy adopters at the start of his career, and where former staffers occupy key positions today.
McCarthy's campaigns have benefited greatly from tech money. Politico reports Oracle was his fourth largest donor during the 2012 election cycle, giving $31,500 to his campaign and leadership PAC. During that same year, Microsoft gave $17,500 and Google gave $20,000. In 2010, Google gave $12,000. McCarthy's former coalitions director, Brian Worth, went on to head Uber's federal policy campaign, according to People's Pundit Daily.
Big firms give to everybody, but McCarthy has gone beyond your standard finance hustle to establish a tech-forward reputation. He used Facebook as an example of a company that would be burdened by over-regulation in 2011. He's a familiar face during visits to Google's HQ. He's fond of calling his office a "start-up of ideas." Politico describes him as having "close working ties with people that now represent companies like Apple and Facebook."
He was even named Legislator of the Year in 2012 by the Information Technology Industry Council, a trade group which counts AOL, Facebook, and Microsoft among its members, saying McCarthy understood "the critical importance of technology and innovation to create jobs in California and across the country."
"What's core with Kevin is that he will not always agree with us, but he always seeks us out to hear us," says Carl Guardino, president and CEO of the Silicon Valley Leadership Group. He described McCarthy to the Santa Cruz Sentinel, "It's not that he takes our calls — he dials our numbers."
If McCarthy is, indeed, listening, that's good news for people who want to see immigration reform. The tech industry has long argued that our restrictive immigration laws keep them from competitively recruiting needed engineers abroad.
The tech industry even helped create this year's Immigration Innovation Act — never voted on in the Senate — which would have increased the cap on H-1B Visas from 65,000 to 115,000. It would have also done away with per-country limits on visa petitioners, and allow spouses of visa holders to work. Such reforms wouldn't completely overhaul a broken immigration system, but selling them around allowing the best and brightest should be an easier way to start the conversation.