You Know Nothing, Jon Snow Fans -- The King Is Back
Kit was all suited up in Stark garb in Belfast.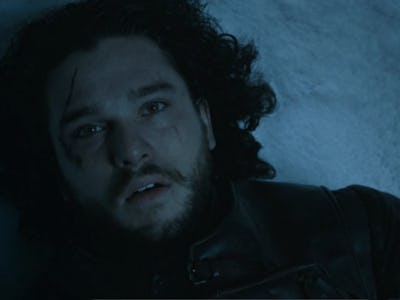 This is wack, basically the paparazzi ruining drama and magic in the world, but here you are. Time to fuck up the fun (so yes, spoilers), and at best pique your nerdiest attention.
There was been much speculation about Kit Harington's return to Game of Thrones as Jon Snow, whose death at the end of Season 5 was one of the most harrowing croaks on television since [redacted beloved girlfriend] on The Sopranos, or at least the Red Wedding. And then were less, after he unambiguously dismissed the rumors directly after the season finale.
Then Harington, ever the tease, walked it back in a Belgian magazine, of all places. "Let's just say that Game Of Thrones will remain a part of my life for a while," said the coy asshole.
But hard photographic evidence has cleared things up, and the eye of the increasingly ubiquitous GoT obsessive can interpret them. On Friday, we saw the photo from the Belfast set for Season 6, and now we have the results from the experts: Not only is Snow the bastard back, but he's got significant new threads.
Or rather significant old ones: Men of the Night's Watch wear black, but Harington was shot in brown — as in, Stark attire. I guess it stands to reason, since he was stabbed to apparent death by all his "brothers" of the Watch, that he might get a pass on that oath for life.
Some have taken it a step further, noting the likeness between the outfits worn by both Robb and Ned Stark prior to their untimely ends. So here's your cue to make up fanciful theories about how and why Jon Snow is now King of the North. Enjoy the next year of arguments! We'll have updates as they come.