Here's How the World Saw the Hyped 'Super Blood Moon'
See posts from the first supermoon lunar eclipse of the social media age.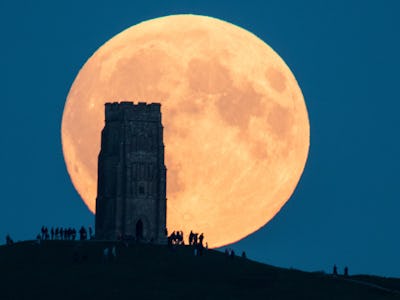 Matt Cardy/Getty Images
Tonight we finally witnessed the much-hyped supermoon lunar eclipse.
It was the first time the phenomenon, also known as the Super Blood Moon, has occurred in the social media era — you couldn't 'gram the moon in '82. The concurrence happens so rarely that in the past, people thought the Blood Moon meant the end of days.
It might be hard to wait for a Super Blood Moon — the next one won't occur until 2033 — but it's pretty easy to understand why it happens. In short, a supermoon occurs when the moon is closest to the Earth. Tonight, it was 222,000 miles away instead of the usual 240,000. That 20,000-mile difference makes it appear 14 percent larger and 30 percent brighter than average. The second part — the lunar eclipse — occurs once or twice a year when the moon is at its darkest point — directly behind the Earth. Put them both together for an event that lasts about an hour and you get a really big red moon.
See some of the best posts from tonight's historic natural phenomenon.
Still, not everybody's impressed by a super blood moon. Count Neil deGrasse Tyson among them:
A big pizza or not, the Super Blood Moon doesn't come around too often. We hope you enjoyed it as much as us: