Elon Musk, Citing Climate Change, Steps Up to Advocate for Refugees
Silicon Valley's most prominent immigrant understands the future borders will be porous.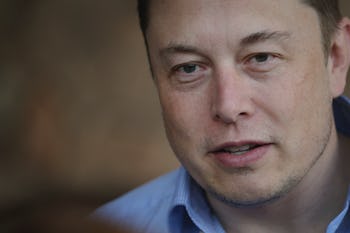 Getty
Ambulatory oracle Elon Musk is on a hot streak of mad prophecy, calling for nuclear detonation on Mars, the launch of 4,000 satellites to soak the Earth in wifi, and warning that world that hundreds of millions of refugees will be the inevitable cost of climate change. He made that last point while speaking in Germany, which is currently welcoming Syrians by the trainload.
Musk is a world class futurist, but the trend he's predicting isn't really on the horizon. Consider this: Evidence suggests that drought in Syria was the main catalyst for the political conflicts in that country, which have left as many as 200,000 dead and roughly half the population of 22 million displaced. "There's no question that the drought had a role to play in the mass displacement of people," Francesco Femia, founder and director of the Center for Climate and Security, told the New York Times.
Musk's vision is both important and bleak because it repositions the current crisis within the context of an ongoing issue, suggesting that Europe is merely experiencing a first wave.