San Francisco Hosts First Ever TwitchCon
Fans of video game streaming gather IRL.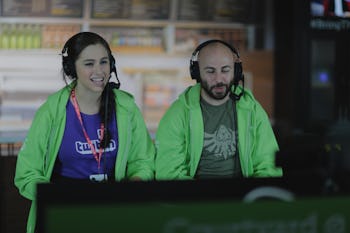 Parker Knight on Flickr
TwitchCon is live.
Fans and denizens of the wildly successful video game streaming service are in San Francisco this weekend to hang out, share tips, watch, and play. In keeping with the general Twitch ethos, you don't actually have to be there IRL to get in on the fun. Because, duh, the entire event is basically a celebration of the live stream.
One cool thing you'll notice in the line-up is a focus on widening the definition of "gamer" beyond the stereotypical white-or-Asian-dude hanging out in his parents' basement. There's a couple panels specifically about and for women gamers, an LGTB+ broadcaster group, and a panel on overcoming disabilities to participate in the gaming community.
The event also has a policy of zero tolerance for harassment based on, but not limited to, "race, color, national origin, gender, gender identity, gender presentation, sexual orientation, age, body size, disability, appearance, religion, citizenship and pregnancy." This stuff should all go without saying, but it doesn't, and Twitch has been on the ball.
This is pretty refreshing given all the negative attention the gaming community has received recently for being a bit of a bro-fest. Hopefully TwitchCon will feel as inclusive on the ground as it is clearly striving to be. If not, Twitch has a year to do some debugging before Con 2.0 is released. Still, it's looking good for a first release.