Talkin' Pope Francis: a Catholic Mother and Son Discuss the Pontifex
Two generations, with different levels of faith, try to solve his appeal.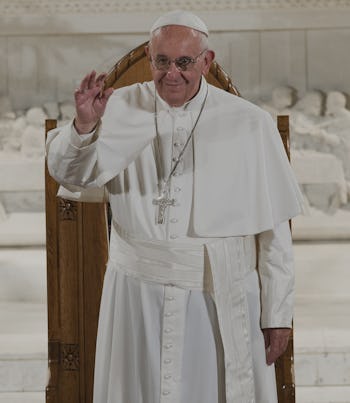 My mother, Penny, will have worked at Regis University for 42 years come January. She graduated from the Jesuit university in Colorado — where she met my dad — and figured she'd stick around for a while. Raised in the religion in Cleveland, Ohio, she attended Catholic school her entire youth before dedicating her work to it, too. She doesn't go to church every Sunday, but she's as Catholic as they come. She's devoted to God, loves helping people, and is in awe of Pope Francis.
I, too, attended Catholic school my whole life — save for a year abroad — and the Jesuits had me for high school and college. I ended up majoring in philosophy and theology, but decided, in high school, that I just didn't know about the true nature of God or the sincerity of the Catholic Church. Religion has always fascinated me, but I don't know if I'll ever be wholly a part of an organized one again. Still, Pope Francis looks to me like a great man. I agree with many of his viewpoints on income inequality, serving the poor, and climate change. My mom and I look at him from two different perspectives, so I decided to ask her how she experiences His Holiness.
Can you encapsulate your fascination with Pope Francis compared to other popes?
Well, first off — because he's a Jesuit. Two-hundred and sixty-five other popes: There's never been a Jesuit. And there hasn't been an order pope in hundreds of years; it's so unusual. The Jesuits take a vow not to seek higher office. So, I couldn't believe it. Because I've spent my life working for them, I just couldn't believe it. So, that was pure astonishment.
But, then, how he is a pope who wants to go out to the masses, to represent Jesus Christ to those less fortunate: not living in the papal palace, not riding in a big car, no handmade red leather shoes, how he went to pay his bill at the hotel after he was elected. It was just like — that's monumental!
He's turned the Vatican on its head. There was so much that was pomp and circumstance that was just to be. And he's like: No.
You use the word "monumental," but is he? Isn't the Catholic Church still stuck in the past? He hasn't said women can be priests or gay marriage is okay and so on and so forth. It's funny to hear religious conservatives call him "liberal," when a lot of people from my generation would say he's not liberal enough.
He hasn't touched any dogma, he's just worked to try to bring the Gospel to the people — to talk about healing, outreach to the masses. And we haven't had someone like that in my lifetime. This is my seventh pope and I don't remember the first one or two very well.
He wants a dialogue. The whole idea of him saying "Who am I to judge?" opens up a discourse and, I hope, opens the door for changes in the Church.
Something that struck me when he addressed the crowd outside the Capitol on Thursday is when he spoke to non-believers, saying if you couldn't pray for him to wish him well. He gives me goosebumps with moments like that.
He spent his career — as a bishop and then a cardinal — being with the people, getting to know them, living with them, taking the bus, and cooking his own food. He is somebody who is so much more humble and true and real and approachable. And that's just marvelous.
Has there been in anything in this visit that's been a highlight so far?
Well, I think him not going to the big, fancy lunch and going to the lunch at Catholic Charities is like: This is who he is. And, also, his reaching out to the young people — really asking to be able to have moments to be able to greet them. That's genuine, that is not a photo op. He's so happy. You can see how much happier he is when he's able to be amongst people as opposed to stuck in the Popemobile or stuck in pomp and circumstance. He wouldn't let the White House do some things that they would normally do. What you see is what you get. That is unbelievable for one of the most powerful people in the world. It's just a heads up: What are we all doing in our world?
Well, what lessons could a non-Catholic or non-believer learn from him?
To be open to his call to make the world a better place. To help heal those less fortunate. And those who are given much are asked to give much back. In giving we receive. And to be humble.
There can't be going back for the Catholic Church, right? I mean, he's 78.
Yeah, he could drop over tonight.
Right, they can't go back to some "typical" pope.
The Holy Spirit and the cardinals knew they had to get out of the Italian stronghold. Francis was almost elected last time. They didn't know how to replace John Paul II, so they just wanted somebody old who could fill in for a while as they got their bearings back.
He was right behind Ratzinger last time and he felt he dodged a bullet. He had sent his papers to retire and the Vatican didn't accept it. He was supposed to be retired in Buenos Aires. So, right, the next pope could not be Joseph Ratzinger. The church would start burning down. No, no, no. The church for the 21st century has to take place. We have to bring our people back, we have pushed them out. That's what he's saying to the bishops and the priests: Get your shoes dirty. Get out there.
You're fairly liberal. Are there issues that you disagree with him on?
I think we need to focus on the issues of our time that the Church has turned its back on. That's gonna take some time and support. I think married priests have to be talked about, women's leadership in the Church needs to be talked about. And, of course, gay rights. Divorce and annulments. We have a lot of disenfranchised people, in pain because they can't be a part of it.
So, where does he stack up in relation to your other popes?
I've seen two of the seven popes, and I'd love to see this guy. John Paul II in Chicago and Denver. I went to an audience in 1973 and saw Pope Paul VI in Rome.
John XXIII lasted till '63, but we knew something was happening. I was in late grade school and that's when mass started in English and we didn't have to wear hats on our heads. When we went to high school — and, of course, college — we really learned about how he threw open the doors. So, this happens. As Fr. Ed McGuinness always says, "Relax, the Holy Spirit is gonna come in and shake it up when it needs to be shaken up." And it does need to be shaken up on a regular basis.
See, that's where I lose you. Everything we're talking about is pretty reasonable and then you start talking about the Holy Spirit.
Yes, but that's me. That's somebody who is older and a different generation Catholic.
Yeah, but I wouldn't say I'm Catholic.
Would you say you're culturally Catholic?
Sure.
So, you are a Catholic. You might not be churchgoing, but they want you to be participatory in some way. And so do I, after paying for all of your Catholic education. Damn Jesuits. Look what they did to you.