Rockets, Robots, A.I., and Acrobats: a World Maker Faire Preview
How maker culture came to dominate the world in just a few years.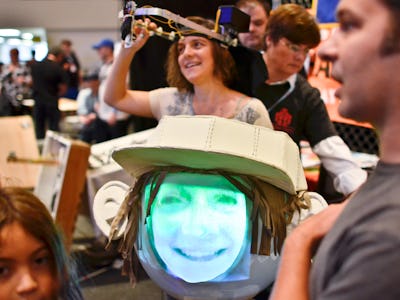 SparkFun Electronics
This weekend Maker Faire descends on New York City for a sixth year in a row, to act as one of the world's largest gatherings of DIY hobbyists and professionals, and to showcase a thousand different wild inventions, tools, and designs. This year's Faire, taking place in the borough of Queens, will feature more than 200 presentations and shows scattered across seven stages and six attraction areas. Organizers are expecting about 100,000 attendees of all ages.
For nearly a decade, Maker Faires have been a way to bring together a community of people who've tapped into their creative and innovative sensibilities to build a wonderful array of original works: flashy robots and drones, tools programmed for novel applications, to weird fashion accessories and jewelry, stuff you can't even name, and on and on.
At least that's just a small snippet. Truth be told, it's not easy define what Maker Faire is. And that's kind of the whole point. The only real requirement for anyone who wants to participate is that they bring something they made that they want to show off to others.
A quick perusal through Make, a magazine for makers, underscores this point. On a glance, you'll find stories of people working on projects as simple as building an aquaponic balcony garden or an LED light that automatically turns on in the dark, to bigger things like using specially designed drones to send aid to Syrians hit by the civil war, or how Bill Nye and others built and launched a solar sail rocket into space. None of these things have a great deal in common, except they're built by people who have a limited access to parts, but have an infinite reservoir of ingenuity.
Dale Dougherty, the founder of Make magazine, and others held the first Maker Faire in 2006. About 20,000 attendees turned out. "It was an opportunity to bring together makers to let them showcase what they do and share and collaborate with one-another, to celebrate making," says Sherry Huss, the "maker-in-chief" for Make and one of Maker Faire's co-founders. "We didn't want to just focus of electronics and robotics, so we wanted people doing all kinds of different things."
This year's event is an overflowing cornucopia of different projects. Estuary Basics is hosting a hands-on experiments that will teach visitors about aquatic ecology and biodiversity. Teknikio will be holding demonstrations on how to embed smart electronics into all kinds of devices. Glowforge will be showing off their desktop laser that's capable of cutting through wood, leather, acrylics, and other solid materials. Stephen Wolfram (of Wolfram Language fame) and his son will be holding a demo of what they call "Do it yourself A.I.." I have no idea what that means, but it sounds awesome.
The biggest new trends, Huss says, reflect a lot of the new ways makers have gone about to build projects. There are more makers using crowdfunding money for their projects. Many have turned to 3D printing to build individual parts. Microcontrollers like Arduino and Raspberry Pi have skyrocketed in popularity, due to how easy they make programming — especially for children. Tom Igoe, a co-founder of Arduino who's presenting at this year's event, highlights the rise in prosthetics makers, and people measuring their own activities as part of the "quantified self" movement using DIY wearables.
One of the biggest cultural changes, Huss says, has been a more "universal acceptance of Maker Faire around the world. It wasn't something we anticipated or expected." This year alone, Maker Media will be hosting more than 150 Faires worldwide, bringing in a total of over 1 million Maker Faire attendees. Says Huss: "We're very proud of that accomplishment."
Jay Silver, the founder and CEO of JoyLabz/Makey Makey and another presenter at World Maker Faire, thinks the controversy around Ahmed Mohamed last week is evidence of this acceptance. "Eight years ago, Star Simpson was in a similar situation. But there was no public outcry. And now there is, with #IStandWithMohamed.
"Nowadays, you see that people are aware that hacking isn't only for doing wrong things. Making is fun and valuable, especially for our kids, and people understand that."
Maker Faires and the internet have done wonders to bring the maker movement out into the public spotlight, but people should be cautious about giving these events too much credit for shaping and influencing the maker culture. In reality, Silver say, "nothing is different. People have always wanted to make things. They just didn't think of it as contributing to their income, or culturally relevant — they just wanted to do it. Humans have been makers from the beginning of time; it just has a good title on it now."
Huss agrees with that assessment: "We didn't invent making — making has gone back a long time." But she likes to think that Maker Faires have helped bring individual maker communities together under one tent. "The rocket people tend to talk to the rocket people, the robot people talk to the robot people," she says. What we've been able to do is go out and give them a platform where they can communicate with one another."
Maker communities are like "tidal pools," says Igoe. "You have these groups sitting in the same water doing individual things, but they never see each other. Suddenly a big wave rolls by and they all get washed in together to find out they're part of a larger community."
An important part of Maker Faires is the desire to pass down the knowledge you have to others. Along those lines, Huss and her fellow organizers are looking at ways to bring maker events to underserved communities, and convert more ordinary citizens into enthusiastic makers and STEM disciples. On the two days preceding the main event, Maker Media held a pop-up Maker Faire at the park outside the New York Hall of Science for classes and families to participate in different maker activities.
The World Maker Faire itself will feature attractions like the Life-Size Mousetrap, a giant Rube Goldberg style contraption; the Circus Warehouse where elite acrobats will put on a show and invite kids to take part in an interactive session; and a DIY booth where attendees young and old can come by and get assistance in making their own real-world objects and devices, as well as learning skills like soldering, knitting, and lock-picking.
"We want to help teach the next generation of makers," says Huss.
One of few problems about Maker Faire might be, strangely, its continued habit of connecting making to STEM. Igoe points out that when he and others first started Arduino, they had designers in mind, not people in STEM. "Right now though, we're thinking too narrowly," he says. "When we think about microcontrollers and digital fabrication machines and drones, we should be thinking about applications not just for STEM. These are tools for everyone. They're not just instrumental — they're also expressive."
The World Maker Faire starts at 10:00 a.m. on Saturday at the New York Hall of Science. You can still purchase tickets at the Maker Faire website. Be on the lookout for Inverse's coverage of the event next week.