Pope Francis Invokes MLK in White House Climate Change Speech
Advocates on behalf of "millions of people living under a system which has overlooked them."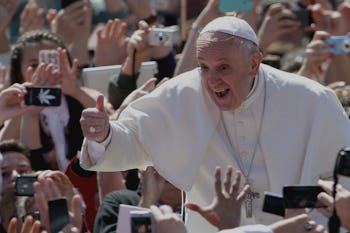 Getty
Pope Francis further cemented his legacy as the Miles Davis of pontiffs. As his first direct address to Americans, he called action on climate change a matter of social justice.
Francis has pushed the world to act on climate change since he took over as head of the Catholic Church, having long called it a "human issue" that will affect the poorest the most, having written that we are faced with a "complex crisis which is both social and environmental," and having set it off earlier this summer with an encyclical call to action.
Here's Pope Francis invoking MLK Jr.'s words:
"Mr. President, I find it encouraging that you are proposing an initiative for reducing air pollution. Accepting the urgency, it seems clear to me also that climate change is a problem which can no longer be left to a future generation. When it comes to the care of our 'common home,' we are living at a critical moment of history. We still have time to make the changes needed to bring about 'a sustainable and integral development, for we know that things can change' (Laudato Si', 13). Such change demands on our part a serious and responsible recognition not only of the kind of world we may be leaving to our children, but also to the millions of people living under a system which has overlooked them. Our common home has been part of this group of the excluded which cries out to heaven and which today powerfully strikes our homes, our cities and our societies. To use a telling phrase of the Reverend Martin Luther King, we can say that we have defaulted on a promissory note and now is the time to honor it."
Sure he also used part of his speech to defend the Catholic view of traditional marriage, but, you know, for the head of an international patriarchy spanning millennia, still pretty chill.