'Game of Thrones' Breaks Emmy Record With 12 Statues
It racked up the most awards in a single year for a single TV show.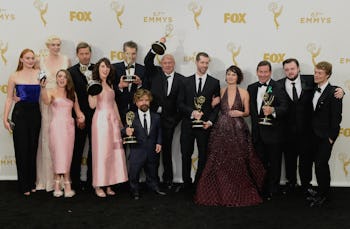 Getty Images
When you play the Game of Thrones, you win or you die. At Sunday's Emmy awards, the HBO fantasy series won more hardware than any other TV show in history.
The crowning achievement for the show was winning the coveted outstanding drama series award, which was its first since the show debuted five seasons ago in 2011. Peter Dinklage also won his second Emmy for outstanding supporting actor after previously winning the same award in 2011. GoT also won awards on Sunday for best direction (David Nutter), writing (David Benioff and Dan Weiss), and eight other Emmy statues at the Creative Arts Emmys.
GoT's 12 wins broke the record for most Emmys in a single year, previously held by political drama The West Wing, which picked up nine awards in 2000.
Previously nominated for best drama in all of its five seasons so far, Thrones was a runner-up behind AMC's Breaking Bad the last two years. This year it was projected to be left out again in favor of another AMC show. The influential '60s-set drama Mad Men wrapped up its seven-season run with a critically acclaimed finale, but it failed to beat Thrones for the top prize. (Mad Men's Jon Hamm did, however, pick up a best actor award after being nominated for the past seven years.) GoT had no lead acting nominees this year.
GoT's race to the top was a long one: It was nominated for the top drama series award every year, but finally took home the award for a controversial season that saw complaints after contentious scenes that included the brutal rape of one of its main characters and the burning of a small child. It also ended with one of the most debated moment in TV history — at least until we get some answers when season six starts up again in April 2016.
Here's the complete rundown of GoT's historic year:
Outstanding Supporting Actor in a Drama Series (Peter Dinklage)
Outstanding Directing for a Drama Series (David Nutter)
Outstanding Writing for a Drama Series (David Benioff and D.B. Weiss)
Outstanding Production Design for a Narrative Contemporary or Fantasy Program (One Hour or More)
Outstanding Casting for a Drama Series
Outstanding Single-Camera Picture Editing for a Drama Series
Outstanding Makeup for a Single-Camera Series (Non-Prosthetic)
Outstanding Sound Editing for a Series
Outstanding Sound Mixing for a Comedy or Drama Series (One Hour)
Outstanding Special Visual Effects
Outstanding Stunt Coordination for a Drama Series, Limited Series or Movie