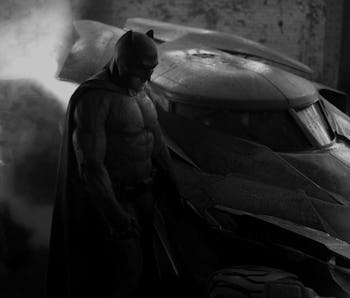 Entertainment
DC Finally Thanks Bill Finger for 'Batman'
 A victory for artists and writers.
Warner Bros.
When Gotham airs its second season this fall, and Batman v. Superman: Dawn of Justice hits theaters next year, you won't just see "Created by Bob Kane" anymore. You'll now also see "and Bill Finger."
The freelance writer who co-created Batman (and invented a huge chunk of the character's mythology) in 1939 will finally receive the recognition he deserves beginning today.
The statement from DC to The Hollywood Reporter:
DC Entertainment and the family of Bill Finger are pleased to announce that they have reached an agreement that recognizes Mr. Finger's significant contributions to the Batman family of characters. "Bill Finger was instrumental in developing many of the key creative elements that enrich the Batman universe, and we look forward to building on our acknowledgement of his significant role in DC Comics' history," stated Diane Nelson, President of DC Entertainment. "As part of our acknowledgement of those contributions," Nelson continued, "we are pleased to confirm today that Bill Finger will be receiving credit in the Warner Bros. television series Gotham beginning later this season, and in the forthcoming motion picture Batman v Superman: Dawn of Justice."
Bob Kane has long hogged the credit for creating Batman, one of pop culture's most enduring characters, even though he really didn't contribute much on the creative end. Kane said himself in his 1989 autobiography Batman & Me: "I must admit that Bill never received the fame and recognition he deserved."
Last year, DC Comics celebrated the character's 75th anniversary with a huge publishing endeavor and marketing campaign. A re-issue of Detective Comics #27 — Batman's first appearance — gave credit to Bill Finger for the first time in decades.
Gotham premieres Sept. 21 on Fox, and Batman v. Superman: Dawn of Justice will be released Mar. 23.