Chinese and Americans Join to Build Bullet Train for Vegas-LA Trips
It's a joint-venture between Las Vegas and Chinese companies that could halve travel time between the two cities.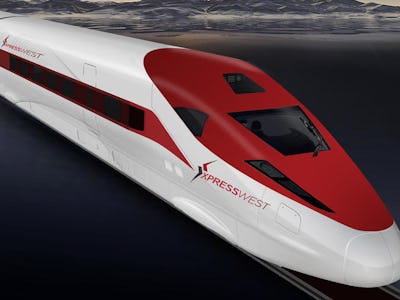 Thomas Lohnes, Getty Images 
The trip from Los Angeles to Las Vegas will soon just be a high-speed train ride away, thanks to an announced merger between Chinese and American groups.
The XpressWest rail project will connect the two cities along the so-called "Southwest Rail Network." It's a joint-venture between XpressWest, "a private interstate high-speed passenger railroad company" led by the Las Vegas-based Marnell Companies, and China Railway International U.S.A. CO., LTD., a consortium of Chinese high-speed passenger rail experts.
A statement from the companies announces that the project is funded with $100 million of initial capital.
The project has been batted around in talks the last four years, and construction should begin in earnest by September 2016, even if there is no set completion date. When completed, what is a four-hour trip by car between LA and Vegas might be reduced to 80 minutes between Vegas and Victorville, California (for an $89 fare). Angelenos would still have to take I-15 back to LA, another 90 or so minutes in a car, though.
The project represents another step in China's efforts to expand its reach of high-speed railway projects, which it was already doing in Asia in competition with Japan, who also has similar goals with expansion of high-speed rail, defined typically as trains traveling more than 110 miles per hour.
Once completed, the bullet-train will offer travel from the two cities in less than 90 minutes, with the trains going at speeds of 150 mph.
This also marks the first Chinese high-speed train project to be done in America with the full support of both countries behind the effort.
There's already one high-speed line in America, Amtrak's Acela line connecting Philadelphia to Boston with fourteen stops along the way. It's not so fast and has been memorably described as such by Philly.com in 2012: "Compared with its cousins in Europe and Asia, Amtrak's showcase service is heavy and slow, less a bullet train than a cannonball on wheels."
We can't finish without including this video of the XpressWest concept, because who doesn't love model trains?