G.I. Joe Creator Seeks His Cut of the Hasbro Fortune
82-year-old Stanley Weston claims he came up with the idea.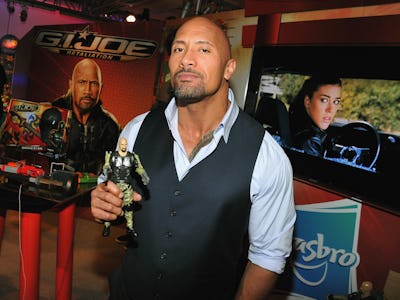 Theo Wargo/Getty Images for Hasbro
G.I. Joe has taken many forms since its inception: It's been a comic book, television cartoon, feature-length movie, and, originally, a doll action figure.
In its latest iteration, G.I. Joe is a wildly successful action movie franchise starring Channing Tatum and Dwayne "The Rock" Johnson. The franchise is valued at $100 million, and an alleged creator wants in on the cut, according to The Hollywood Reporter. The toy company Hasbro still owns the rights to G.I. Joe, but 82-year-old Stanley Weston claims he came up with the original idea for the military action figure, so he's suing for his rights.
According to his complaint, Weston came up with the idea of "Outfitted Action Figures" in 1963. He would've made the toys by himself, but "had no facilities to create prototypes" of them, so Hasbro created G.I. Joe on his behalf. Apparently, someone literally uttered the words, "You're going to make a ton of money from this" to Weston, too. Weston signed a contract with Hasbro in 1964 — which he's since misplaced — that gave him copyrights to the Outfitted Action Figures, meaning that any third parties, like the movie studios, marketing G.I. Joe are infringing on his rights.
If Weston were to win his lawsuit, it could kill the movie franchise before the planned third film hits theaters in 2016. It would really behoove both parties, though, to settle out of court. Hasbro has deep pockets and can certainly afford to pay Weston what he likely deserves, or something close. They could also give Weston an executive producer's role to give him the credit he's seeking.
His story is fairly vague, and he doesn't have a contract as proof, but his claim of having the original idea without the means to produce is plausible. And Hasbro likely doesn't lose its toy by conceding that the idea wasn't the company's own from the outset. Why there's a need for them to dig in their heels over a dispute with an elderly man hasn't come to light. Knowing is half the battle, after all.