How Exactly Will 'Scream Queens' Reinvent Comedy Horror?
You'll laugh. You'll scream. But will you do both in equal amounts?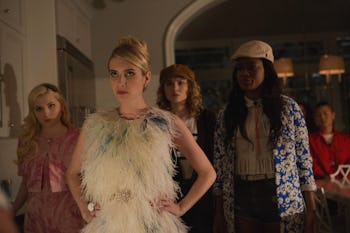 Last October, Fox unveiled plans for a new series entitled Scream Queens, from the creators of Glee Ian Brennan, Brad Falchuk and Ryan Murphy. Taking cues from another series created by the latter pair — American Horror Story — the slasher serial will refresh itself with every new season, adopting the anthology format. And it plans to invent a new mode of storytelling.
"I knew I wanted to work with Brad and Ian again on something comedic, and we are having a blast writing Scream Queens," Murphy told THR. He added:
"We hope to create a whole new genre – comedy-horror – and the idea is for every season to revolve around two female leads. We've already begun a nationwide search for those women, as well as 10 other supporting roles, and we're very grateful to [Fox TV Group chairmen and CEOs] Dana [Walden] and Gary [Newman] for their enthusiastic support."
Walden and Newman added their comments in the same press release, echoing Murphy's statement:
"We loved every element of the pitch for this show — the genre-bending concept, which blends true horror with big comedic moments; the diverse and unforgettable characters and reuniting the phenomenal creative team that delivered Glee."
Without watching the series, it's difficult to ascertain its methods for creating a genre that already exists. Horror-comedy or comedy-horror isn't new, nor is the idea of making it modern "a genre-bending concept." Without wanting to tear into the actual show itself - quality is not the issue here — praise for spawning a new hybridized type of content from pre-existing tropes should really be held back until the show drops its entire run of episodes. Who knows, maybe Murphy and co. will redefine horror comedy (and again, if that's the case, saying you're creating it as if from scratch would still be inaccurate) and inject a new lease of life into the mode. The question is, how?
Due to its debut later this month, Scream Queens takes place on a college campus, zoning in on the activities of the prestigious Kappa sorority house who are in the throes of enlisting new members. Emma Roberts is Sorority President Chanel Oberlin, whose desire to only consider affluent candidates is scuppered by Jamie Lee Curtis' Dean Munsch who insists that all applicants must be allowed to pledge. Shortly thereafter, a serial killer decked out in a red devil mask starts roaming the campus and knocking off students during hell week. It pokes fun at the elitism of sororities with a blood-tipped finger:
Comedy won't be a problem. There's plenty to laugh about in this first trailer. In fact, if the above preview was your only knowledge of the show you might think Fox was rolling out a flat-out black comedy, with a touch more bite and elan than the family-friendly rib-tickling of shows like Bones. Its central quartet of rich bitches spouts scathing one-liners with Roberts' Chanel eerily mirroring the cool vitriol of Heathers' queen bee Heather Chandler. Along with the fact that her three closest chums refer to themselves as "Chanels," the parallels to that 1988 jet black satire are abundant, and suggest that this show won't pull any punches when it comes to back-handers.
Harder to spot are the true horror components. Its college setting is a favorite of early slashers. Hell Week, The Dorm That Dripped Blood, House On Sorority Row, Splatter University and the like situate their killings on the grounds of higher education institutions, so there's that implied nod to the horror oeuvre. Am I just too focused on its scares in relation to other comedy-horror examples?
The horror in this comedy might be more subtle, i.e. Curtis' shower scene paying homage to her mother's iconic death in Psycho. Real heart-pounding fear appears to be absent. A victim with a knife jammed through her throat is played for kicks in the teaser, and brief glimpses of the masked killer are concluded by shots of low-lit sorority queens screaming with glee.
Based on what I know so far, I'm already psyched. Mainly due to Curtis' deadpan delivery when dishing out scathing barbs and Roberts ridiculously over-the-top persona. I'll be gob-smacked if it truly scares me.
Scream Queens debuts on September 22.