What's the next Star Wars movie and when will it come out?
What's next in a galaxy far, far away?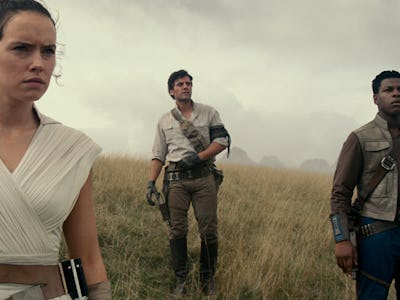 Lucasfilm
With The Rise of Skywalker's release this weekend, the nine-part epic finally comes to an end. The new trilogy's conclusion brings with it a lot of uncertainty for Lucasfilm and Disney moving forward. How does the franchise evolve after this? When is the next movie coming out?
According to Lucasfilm president Kathleen Kennedy, the way forward is through "something new and different." That could very well start with the next Star Wars film, an untitled project set to be announced in January 2020.
As is the case with all Star Wars projects in their early stages, the next film set in a galaxy far, far away is still shrouded in mystery. While it was previous reports suggested the next project would be another trilogy, Kennedy said in an interview with The Los Angeles Times that The Rise of Skywalker gave Lucasfilm an "open-ended view of storytelling and doesn't lock us into this three-act structure." With that in mind, the next few films likely won't be attached to a trilogy at all, but how they'll connect to the original saga remains unclear.
However, there is one thing we do know about the upcoming Star Wars project. It's reportedly being planned for release in 2022 and further details about the project will be revealed in January 2020. What the film will be about, who will write, direct, and star in it are all unknown. It definitely won't be Game of Thrones creators D.B. Weiss and David Benioff, who were hired to launch the next Star Wars trilogy and left the project in October, allegedly due to a busy schedule.
With Benioff and Weiss out, it's possible that Rian Johnson, who directed the divisive Last Jedi and is set to helm another film (or three), will be announced as the untitled 2022 film's director. After all, he's already developing other Star Wars films for Lucasfilm, so it's not a big leap. During the press tour for his latest film, Knives Out, Johnson was often asked about the Star Wars projects he's working on. He had no new information to share, beyond saying that he's "still engaged with Lucasfilm and we'll wait and see."
This is a big "if," but it's possible the next trilogy may be about one of the characters featured in The Rise of Skywalker. After all, Kennedy did state that Lucasfilm wouldn't drop any of the new trilogy's characters, assuming none of them die in Episode IX. We know John Boyega would be interested in coming back for a Star Wars film, but not a Disney+ TV show.
Kennedy also confirmed that Marvel's Kevin Feige has some ideas for a potential Star Wars movie, but there are no concrete plans yet. With so much up in the air, the announcement of another Star Wars film so soon after the release of The Rise of Skywalker is a bit puzzling. Still, we're all aboard for the next era of Star Wars: 2022 can't come soon enough.
Star Wars: The Rise of Skywalker hits theaters December 20.