Kylo Ren comic reveals Snoke's shocking past ahead of 'Rise of Skywalker'
'The Rise of Kylo Ren' reveals a previously unseen side to Snoke.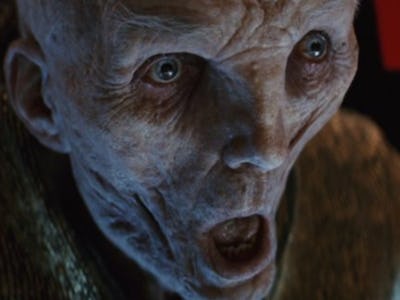 Lucasfilm
With the imminent release of Star Wars: The Rise of Skywalker, Supreme Leader Snoke's backstory remains a big mystery. It's unlikely Episode IX will touch upon any of the unanswered Snoke questions from The Last Jedi; after all, that's what canonical comic book tie-ins are for. The first issue of Star Wars: The Rise of Kylo Ren reveals more of Snoke's shocking backstory and suggests he may have been more of a father figure to Kylo than previously known.
In a flashback during the The Last Jedi, Kylo wakes to find his uncle Luke standing above him with a lightsaber. Luke sensed his nephew's Dark side power and was momentarily tempted to strike him down. Though Luke never actually kills his nephew, the damage is done. Up to now, we've been left to assume that Kylo burns down Luke's Jedi academy and murders his fellow students in a fit of rage.The Rise of Kylo Ren #1 reveals that there's much more to the story.
The comic details the events immediately following Kylo's departure and confirms quite a few things that were previously unclear. First off, Kylo didn't destroy the temple. It actually explodes before he can get there. This is where things get really interesting. Per Twitter user skyelo_ren, Kylo actually tries to save his fellow students from the temple, then is forced to fight off three Padawans who don't believe that Luke attacked him.
After his escape from Ahch-To, Kylo runs off to see Snoke. Yup, apparently the two already knew each othe. Snoke, dressed more like a tree instead of his familiar First Order robes, tells Kylo that he's "so pleased you came to me." Additionally, he calls Kylo "my boy" and wraps him in a hug. Who knew Snoke had such paternal instincts? Check out the image from the comic below.
The confirmation that Snoke knew Kylo prior to the events of the new trilogy isn't new information. After all, Star Wars: Age of Resistance — Supreme Leader Snoke #1 already denoted how Snoke trained Kylo prior to The Force Awakens.
However, The Rise of Kylo Ren makes clear their relationship goes back much farther than we knew. Was Snoke secretly influencing Kylo Ren even while he was training with Luke? The comic certainly implies that that's the case. Snoke welcomes Kylo as a father would a son, so perhaps the comic series will go even further back to confirm when exactly they first met.
While this information doesn't seem to have any bearing on the events of The Rise of Skywalker, it does offer more information on Snoke's influence and Kylo's tragic past. It suggests that Ben Solo may not have simply flipped to the Dark side one day as simply as The Force Awakens and The Last Jedi implied. If nothing else, it makes Kylo's potential journey toward a redemption arc in Episode IX that much more inevitable.
Star Wars: The Rise of Skywalker hits theaters December 20.