License Plate Readers That Caught Alleged Delta State Killer Track Your Car, Too
The investigation of the Delta State shooter highlights the widespread surveillance.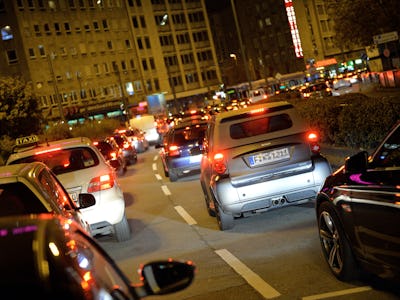 Thomas Lohnes, Getty Images
Police in Mississippi investigating a shooting at Delta State University got a lead from a unique place. The Wall Street Journal reports that authorities tracked down the shooter as he crossed a bridge over the Mississippi River, thanks to automatic license plate readers.
Automatic readers — on bridges, at stop lights — record license plate numbers, date, and location, which can be cross-referenced with information from other connected readers. The American Civil Liberties Union contends that these collection methods need to be transparent and well-regulated. Such data could be compiled to create a digital driving profile, one that people couldn't opt out of.
An ACLU report published in July reveals this: "The National Highway Traffic Safety Administration has granted hundreds of thousands of dollars to local and state law enforcement agencies for the procurement of automatic license plate reader systems, contributing to the proliferation of this poorly regulated location tracking technology, according to documents obtained by the ACLU through a Freedom of Information Act request."
The Mississippi case highlights the potential benefits of making police more omniscient. Still, without knowing when and where you're being tracked, any concerns over that collection should yet be thrashed out in the public square.