SpaceX hits choppy waters in its quest to make a reusable rocket
The Falcon 9 successfully launched, but some parts didn't quite make it back as expected.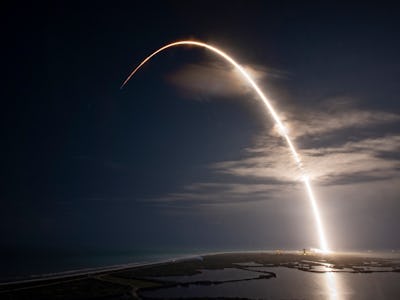 SpaceX
Better luck next time?
SpaceX successfully launched the Jcsat-18/Kacific1 mission Monday at 7:10 p.m. Eastern time from the Cape Canaveral Air Force Station in Florida. The Falcon 9 rocket carried two communications satellites and released then around 33 minutes after launch. The booster successfully landed on the Of Course I Still Love You droneship in the Atlantic Ocean, the third take-off and landing for this booster after supporting the CRS-17 mission in May and the CRS-18 mission in July.
Unfortunately, the fairing didn't fare so well. SpaceX revealed after launch that the protective shell halves narrowly missed the Ms. Tree and Ms. Chief ships around 45 minutes after launch, specially equipped with nets to try and catch the component. The component instead landed in the water.
SpaceX has long struggled to successfully catch the fairing after launch before it hits the water. Elon Musk offered a short comment on his Twitter page that captured the CEO's frustrations: "Sigh…"
Luckily, all is perhaps not lost. Musk noted that, based on telemetry data, the fairing halves appeared to touch down softly on the water. That could mean the fairing may still be reusable, despite its unexpected ocean swim.
It's the latest step in a journey to revolutionize space travel and make rocket launches cheaper than ever.
SpaceX: the quest to save the rocket
Rocket launches are expensive. The commercial price to fly a Falcon 9 is listed on SpaceX's website as $62 million. Musk compared disposable rockets as akin to designing an airplane with no ability to land, forcing everyone to parachute out to reach their destination.
The booster comprises around $45.5 million. This has formed the basis of SpaceX's efforts for the past few years. It first tried to land a core in 2013 and failed. The following year, it successfully landed two cores in the ocean. It first landed a booster on land in 2015. In 2017 it successfully landed all 15 cores it attempted to recover. SpaceX has landed 47 cores in total.
Its fairing, estimated to comprise around $6 million of that $62 million launch price, has not quite reached these routine wins just yet. It's a protective covering that measures around 16 feet in diameter, made from aluminum and carbon fiber, that ensures the payload reaches orbit safely. SpaceX first recovered a fairing in March 2017, aided by the onboard thrusters that Musk claimed made it "its own little spacecraft."
In April 2018, Musk unveiled a plan to use a giant bouncy house to try and recover the parts. Over time this plan has transformed into a more straightforward ship, stationed in the Atlantic Ocean, with a net on the back to recover the components. The ship was fitted with a net four times larger in the summer of 2018. By October 2019, Ms. Tree was joined by another ship dubbed Ms. Chief — which both sound like "mystery" and "mischief."
It still wasn't quite enough. In January, it came agonizingly close to catching its first fairing. In July, the ship caught its first fairing half during the STP-2 mission. It completed the same feat again by August during the AMOS-17 mission.
SpaceX's efforts to recover every component of the Falcon 9 could help inform its next project — the Starship. This vessel, designed to help humans build a city on Mars, is designed for full reusability. It's fueled by chemicals that can be harvested from the Martian atmosphere, meaning humans can refuel and lift off again. All this requires a rocket capable of multiple launches, which could ultimately create a planet-hopping network as humans build propellant depots further out.
Communications satellites today, Mars tomorrow.