Will 'Blade Runner 2' Answer the Original's Biggest Question?
Director Denis Villeneuve teases about whether Deckard is a replicant or not.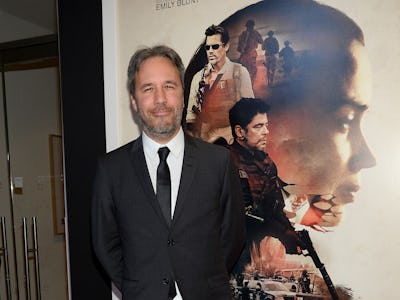 Getty Images
Director Denis Villeneuve has carved out a strong niche lately with films ranging from hard-hitting dramas like Prisoners to psychological weird-outs like Enemy. He already has the sci-fi movie Story of Your Life, starring Jeremy Renner and Amy Adams, in the can, and though his new film Sicario is playing at the Toronto International Film Festival people are eager to find out about what he has coming up next. Villeneuve is set to direct the long-in-development sequel to Blade Runner, and his new entry may answer some of the questions left open from the 1982 classic.
The Director's Cut for director Ridley Scott's seminal 1982 film suggested that Deckard, the neo-noir detective sent to track down and kill rogue androids called replicants played by Harrison Ford, was in fact a replicant himself. It's a small addition to the movie that has grown in prominence since its original release, and has led many to speculate whether it's true or not. Villeneuve's continuation, which has the blessing of Scott and has Ford set to return, looks to address the question head on. But is that actually a good thing?
Talking with Crave at TIFF, Villeneuve said, "Now that I am on the other side of the fence I cannot answer," and later followed up with, "The thing I must say is that I love mystery. I love shadows. I love doubts. I would just want to say to the fans that we will take care of that mystery. I will take care of it."
Villeneuve seems to be playing coy at answering the question about Deckard being a replicant, but if he "loves the mystery" so much, then why take away the mystery by providing an answer? He may just mean that they'll "take care of it" by continuing to keep the question of whether Ford's character is a robot an enigmatic underpinning of the film's mythology, or he could mean that it'll be part of the main thrust of the story.
The best part about the question of "Is Deckard a replicant or not?" is that it keeps perpetuating the conversation about Blade Runner over three decades after it first hit theaters. By digging into that and giving us answers we may fall into the mistakes of another Ridley Scott continuation: Prometheus. While that movie attempted to answer questions from Alien, it left a lot of people dissatisfied about something that had been nagging them for over three decades as well.
Villeneuve himself is admittedly a bit shaky at the prospect. He told Collider, "You have to respect what was done, so you have to find the right equilibrium between being faithful to the first one and bringing something new at the same time that will make sense to the 'Blade Runner' universe… it's a deep fear. My first reaction was that it's a fantastic idea, but it may be a very bad idea. I'm among the hardcore fans of Blade Runner."
He's in the precarious spot of potentially ruining something he and a lot of other people love. There's no release date as of yet, but at least that means Villeneuve has enough time to figure out if he made a good decision or not.