Baby Yoda plush, toys, and merch price and release date revealed by Hasbro
Which one is your favorite?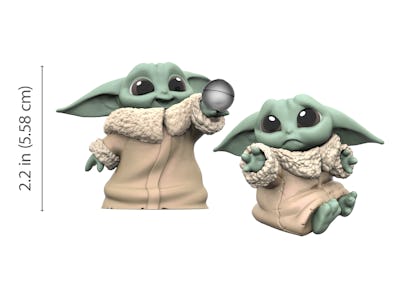 Hasbro
Baby Yoda toys: They're here. Well, not until spring 2020. But Hasbro is capitalizing on Baby Yoda fever by unveiling collectible toys, plushes, and even action figures of "The Child" early next year.
Hopefully, by then, we'll be just as Baby Yoda crazy as we are now, unless there's something wildly cute in Star Wars: The Rise of Skywalker that makes us forget Baby Yoda's stupid baby face.
On Thursday, Hasbro revealed a complete line of Baby Yoda toys it will release in spring 2020. There isn't yet a completely soft-plush Baby Yoda teddy, which will probably make a half-billion dollars alone for the lucky manufacturer to make it first. But Hasbro's Baby Yoda collection — officially named "The Child," although it's not against calling it "Baby Yoda" either — is still worth hunting throughout the galaxy.
The complete catalog is as follows:
"The Child" Talking Plush Toy ($24.99)
With a plush body and a vinyl head, this talking plush toy can—wait, it can TALK?!?! Hold on, can Baby Yoda talk? What the hell is it going to say?? We need this toy now.
Anyway, this is a talking (!!!) plush toy with a soft body and vinyl head. Hasbro's press release says you can squeeze its "soft plush" body to activate "character sounds." So maybe it can't talk, but with accessories like a frog and soup bowl, it can probably slurp. Of course, we need this now.
"The Child" 6.5-inch Figure ($19.99)
An oversized figure with "several points of articulation," this is a Baby Yoda you might want to keep on your desk. Beware if you have any shiny objects.
"The Child" Bounty Collection, 2.2-inch ($7.99 each)
An assortment of vinyl figures featuring Baby Yoda in some of his most now-iconic poses: Drinking soup, wrapped in his blanky, eating frogs, and trying to reach out to the Mandalorian to heal him but can't because he's itty bitty.
"The Child" Black Series Figure 6-inch scale, 1.12-inches ($9.99)
For the SERIOUS collectors, Baby Yoda will join the collector's-centric Black Series line in spring 2020. Standing just 1.12 inches tall, this Baby Yoda will be in scale to the rest of the Star Wars universe, including the existing Mandalorian figure (one of our selections for this year's holiday gift guide).
Hasbro's Baby Yoda collection will release at retail in spring 2020.