SpaceX's ultra-bright Starlink satellites took astronomers by surprise
They offer fast internet with low latency, but at what cost?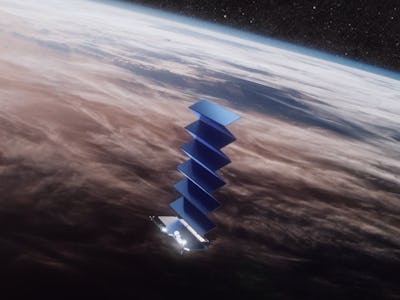 SpaceX
SpaceX's dazzling internet satellites, a network called Starlink, took members of the astronomy community by surprise, Inverse has learned.
Starlink has caused headaches for star-gazers, as the first 120 satellites interfere with observations. Gwynne Shotwell, president of Elon Musk's space-faring firm, told SpaceNews that nobody anticipated these problems: "No one thought of this. We didn't think of it. The astronomy community didn't think of it."
The company is working to rectify the issue by adding a new non-reflective coating. But the initial constellation, which launched in two batches in May and November, has already disrupted work and even photobombed a meteor shower.
"As an astronomer, what no one expected was how bright these satellites would be," Patrick Seitzer, a research professor at the University of Michigan's department of astronomy, tells Inverse. "Easily seen with the unaided eye."
The problem, Seitzer explains, is these first satellites "can be seen with the unaided eye on a dark, moonless night at a location with no light pollution." It's bad enough with the two batches currently in orbit 550 kilometers above the Earth's surface, but SpaceX has applied for permission to launch up to 42,000 satellites, the sky could soon fill with shiny internet outposts.
SpaceX Starlink: the race to fill the skies
Starlink's aim is to provide high speed, low latency satellite internet. To do this, it's planning to launch thousands of satellites, each weighing 573 pounds, in batches of 60. After six launches, sometime in 2020, it expects to start offering internet access to the northern United States and Canada. Global service is set to go online in 2021 after 24 launches. Access would be provided through a base station the size of a pizza box.
The main issue is that SpaceX plans to fill the skies with thousands of craft. There is currently only around 5,000 satellites in space total, including inactive craft, which means Starlink could rapidly eclipse the number of satellites already in the sky.
It probably doesn't help that Starlink has already started disrupting astronomers' work:
London's Royal Astronomical Society noted "with concern" the launch of the new satellites in June.
The American Astronomical Society wrote in a blog post on December 5 that "the response from our community was loud enough that SpaceX reached out to the AAS looking to establish a line of communication," adding that "since optical/infrared interference doesn't have a statutory or regulatory framework like radio interference, they hadn't had any interactions with that part of our community."
A six-strong working group has held six teleconferences with SpaceX between June and November. The team noted in the post that the last two meetings were particularly fruitful, but noted that concerns still exist:
"The goal of Starlink is to provide worldwide internet service, an aspiration we do not want to impede, but this requires one to two orders of magnitude more low Earth orbiting satellites (LEOs) than currently exist. We do not want to give up access to optical observations from the ground. Our group's task is to find a path forward that accommodates both uses of the sky."
One result of these discussions is to test coatings that may help reduce the brightness. The next batch will contain one satellite that includes the coating as a test subject. Shotwell told SpaceNews that this could alter the craft performance, adding: "It definitely changes the performance of the satellite, thermally. It'll be some trial and error but we'll fix it."
SpaceX is not the only player looking to enter the space. Jeff Bezos' Project Kuiper could add a further 3,236 craft to the sky.
After the astronomical community was blindsided by the sky-dazzling Starlink, more unwelcome surprises could be on the way.