John Boyega may have spoiled who survives in 'Star Wars: Rise of Skywalker'
He also comments on whether or not he'd ever play Finn again.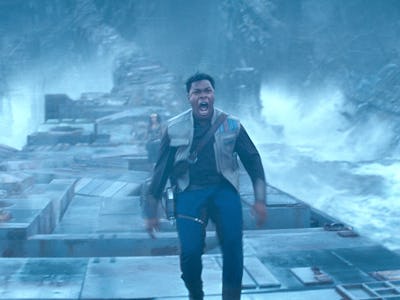 Lucasfilm
Finn actor John Boyega may have let slip a big spoiler about Star Wars: The Rise of Skywalker. Did his recent comments reveal who survives the alleged end of the Skywalker saga? Based on these new quotes, you can likely assume that a few key characters will make it through Episode IX alive.
Big potential spoilers follow for The Rise of Skywalker.
In an interview with Variety published earlier this week, Boyega spoke about his experience filming The Rise of Skywalker and whether or not he'd ever consider returning to the role of Finn.
"In what?" Boyega asked for clarification. "You ain't going to Disney+ me!"
He went on to clarify that he'd "stay in the feature films" but wouldn't return to the role of Finn if it were for a Disney+ show. His one other requirement for reprising his role is more telling: "As long as Daisy and Oscar are down for it, then I'll come back."
Can we take this as confirmation that Boyega's Finn, Daisy Ridley's Rey, and Oscar Isaac's Poe Dameron all survive the events of The Rise of Skywalker? And that Boyega would return for more movies after Episode IX if all three of them did? Maybe.
When asked the same question, Oscar Issac said, "I don't know." He also referred to the end of the Skywalker Saga as "the closing of a chapter of [his] life." He's ready to move on, it would seem.
Here's Ridley's answer:
"I think it's just a great story and a great close, and even though obviously the characters continue to exist, it would have to be so extraordinary [to return], and I don't know if that's possible."
If anything, Ridley's phrasing here makes it deliberately seem like they all survive.
At face value, all of these comments imply as much. Nobody significant died in the original trilogy (other than the bad guys), so it would make sense on some level for the new trilogy to do the same. Is it really so surprising that Finn, Poe, and Rey beat Emperor Palpatine and live to tell the tale? Not really. (Sorry, Kylo Ren.)
There's also the fact that Star Wars doesn't always tell its stories in chronological order. Rogue One and Solo filled in some gaps in Star Wars history, and The Mandalorian is doing the same. It's possible these three actors could revisit these roles in a story that occurs before The Force Awakens, or even between The Last Jedi and The Rise of Skywalker.
Which is to say that they can die in The Rise of Skywalker and still return to Star Wars. These seasoned actors are well-aware that whatever they say in press interviews could be interpreted as a spoiler in some way, and Disney has a legion of people that help actors prep for interviews for this very reason.
John Boyega saying he'd return to Star Wars with his two fellow actors could also just be a clever way of saying it'll never happen. What if Rey does die in The Return of Skywalker? There'd be no way Daisy Ridley could return and therefore no way that Boyega ever would either.
Star Wars: The Rise of Skywalker will be released December 20, 2019.