The Franchise Hodgepodge of 'Lego Dimensions' Is Weirdly Perfect
The game crams together 14 different properties in the Lego Multiverse.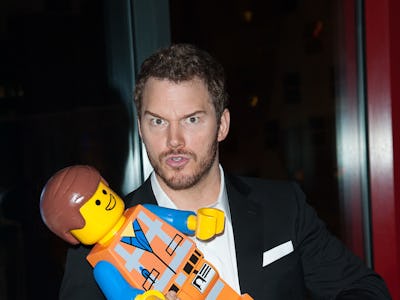 Getty
Lego Dimensions drops later this month on Xbox, PlayStation, and Wii, touting a story that jumbles up 14 different properties. Back to the Future, Batman, The Lord of the Rings, The Simpsons, the pop-cultural paella of The Lego Movie — it's all here. Could Lego Dimensions be a legitimately awesome adventure or just a shameless nostalgia trip? A new video shows Lego has lined up some ridiculously great talent to make it a little bit of both. And that isn't necessarily a bad thing.
The biggest get here is the legit Back to the Future win: Michael J. Fox is voicing Marty McFly, with Christopher Lloyd reprising the great Doc Brown. Members of the original cast of Ghostbusters, The Lord of the Rings (though not Ian McKellen), and Scooby Doo (including Matthew Lillard as Shaggy) are all on board. From The LEGO Movie there's Alison Brie (Unikitty), Charlie Day (Benny), Elizabeth Banks (Wyldstyle) and Chris Pratt (Emmet), with Pratt also reprising his role from Jurassic World with Irrfan Khan (Simon Masrani). Voice actor Troy Baker plays Batman instead of Will Arnett, who played him in the movie, while Tara Strong plays Harley Quinn.
And, yes, the credits keep rolling: Peter Capaldi lends his voice to the 12th Doctor from Doctor Who, while Jenna Coleman is Clara Oswald and Michelle Gomez is Missy; other original actors from the long-running science fiction television series will return in archival audio. Stephen Merchant plays Wheatley and Ellen McLain plays GLaDOS from the Portal video game series. Also, the original Lego Dimensions storyline features Joel McHale as X-PO, the game's primary robot guide, and Gary Oldman as Lord Vortech, the big baddie who will stop at nothing to control the Lego Multiverse.
Pulling from such a massive swath of properties means one thing: Lego has taken over pop culture once and for all. By collecting such popular movies from our childhood while also cannibalizing its own (though Star Wars is conspicuously absent), you could argue that it has spread itself shamelessly thin to become a collage of recognizable entertainment.
But don't short Lego. This hodgepodge shows Lego is cued into the ecumenical way most kids play with their toys. Gandalf and Scooby Doo are teammates in the sandbox; Batman and the Ghostbusters are same-universe equals in the bathtub; Lisa Simpson can quiz Dr. Who in the way-back of a minivan. Lego builds its own world in the same way — everything is interchangeable, everything fits together. Everything pulled from the same toybox is awesome.