'Game of Thrones' prequel could bring the Storming of the Dragonpit to life
HBO just dropped a huge clue about one epic moment we could see in 'House of the Dragon.'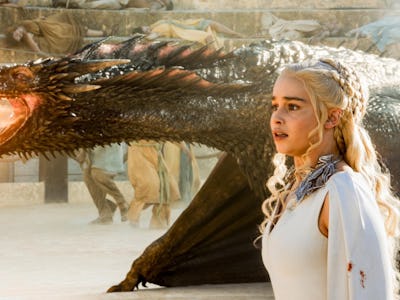 HBO
If you thought watching two dragons die in Game of Thrones was painful, you may want to avert your eyes when the GoT prequel, House of the Dragon, premieres on HBO. The series is set to chronicle the twilight of Targaryen rule, and a new video from HBO about that same chapter of Westeros history could reveal one brutal moment that the show will bring to life.
Released by io9 to promote the upcoming Game of Thrones DVD and Blu-ray box sets, the video details the history of King's Landing, which was founded by Aegon Targaryen. With original animation and narration from Conleth Hill (Varys on GoT) the clip offers some insight into how the city some of the bloodiest moments in its history.
That includes the creation of the Red Keep, and the subsequent murder of every mason who helped build it by Maegor Targaryen (Aegon's son, also referred to as Maegor the Cruel) in an effort to keep the castle's secrets from spreading beyond its walls. Maegor also clashed with the Faith Militant over the Targaryan practice of incest, and eventually decided to destroy their Sept and replace it with the famous Dragonpit.
Jump forward a bit in Westeros history and the Dragonpit is finally completed, only for a crazed prophet called The Shepherd to lead a mob riot resulting in the death of all four dragons inside the pit and a fifth that that was loose in King's Landing. As HBO's video notes, thousands of people died in the Storming of the Dragonpit, but the end result was a world without dragons — until Daenerys showed up.
If this all sounds incredibly epic, well, you're not wrong. And if you think it sounds like the perfect plotline for a Game of Thrones prequel, well, you're probably not wrong about that either. We still don't know exactly when House of the Dragon will take place, but if this series is supposed to show us the downfall of the Targaryen dynasty, it pretty much has to include that one time a bunch of angry citizens killed five dragons, right?
Game of Thrones Season 8 and Game of Thrones: The Complete Collection release December 3 on DVD and Blu-ray.
Here's a full list of all the new animated histories and audio features that come with it:
HISTORIES BREAKDOWN:
Siege of Duskendale, Talent: Conleth Hill, Character: Varys
The Blackfyre Rebellion, Talent: Conleth Hill, Character: Varys
King's Landing, Talent: Conleth Hill, Character: Varys
Meagor The Cruel, Talent: Conleth Hill, Character: Varys
The South, Talent: Kristofer Hivju, Character: Tormund
GreyJoy Rebellion, paired history, Talent: Pilou Asbaek & Nikolaj Coster-Waldau, Characters: Euron & Jaime
AUDIO COMMENTARIES:
Episode 1: Winterfell - Dave Hill (Co-Producer & Writer) and Deborah Riley (Production Designer)
Episode 2: A Knight of the Seven Kingdoms - Bryan Cogman (Co-Executive Producer & Writer) and Dan Portman (Podrick Payne)
Episode 3: The Long Night - Miquel Sapochnik (Director), Sean Savage (Camera Operator) and Fabian Wagner (Director of Photography)
Episode 4: The Last of the Starks - David Franco (Director of Photography), Nathalie Emmanuel (Missandei), Jacob Anderson (Grey Worm) and Pilou Asbæk (Euron Greyjoy)
Episode 5: Bells - Miguel Sapochnik (Director), Fabian Wagner (Director of Photography) and Conleth Hill (Varys)
Episode 6: The Iron Throne - Emilia Clarke (Daenerys Targaryen), Dan Weiss (Executive Producer/Writer/Director), David Benioff (Executive Producer/Writer/Director)