'BioShock 4' may be a lot like 'Fallout 76', new 2K job listing hints
Could BioShock pivot to live services?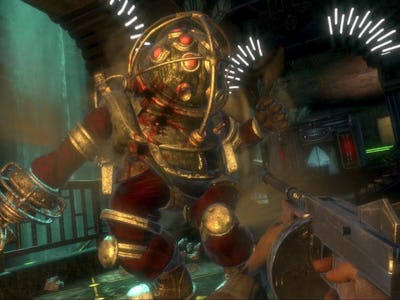 2K Games
The next chapter for BioShock is coming into focus under 2K Games. Parent company Take-Two Interactive recently claimed to have "the strongest development pipeline in its history," which hints at a follow-up to its widely successfully 2013 release of BioShock Infinite.
2K recently posted a job listing for an "End Game Design Lead" at a studio in Novato, California, which is where Kotaku reported the company was secretly developing a new BioShock game last year. The listing doesn't mention any specific titles, but explicitly states 2K wants this unnamed title to be heavily focused on "live-services."
That could suggest BioShock 4 will end up looking a lot like Fallout 76, Diablo 3, or Borderlands 3. It might forgo its exclusive focus on a single-player narrative in favor of a multiplayer strategy with reoccurring DLC content drops to keep players hooked even after they reach the story's end.
"The world, by contrast, is something we are designing to be alive and engaging past the main narrative arc," states the job listing. "To leverage this, we want to build a post-narrative set of systems, quests and player progression that gives our fanatic fangirls and fanboys more content to experience on an ongoing, live-services basis."
While 2K has offered DLC packs for previous BioShock games, the series has never supported multiplayer. While it's far too early to completely write off a potential multiplayer BioShock title, it would be a turn away from a core emphasis of the franchise.
All three BioShock titles have been praised for their unique storytelling. Joel Gregory of PlayStation Official Magazine wrote that BioShock Infinite deserves a spot next to legendary titles like Half-Life and Deus Ex as "the apotheosis of the narrative-driven shooter." It's difficult to see how BioShock 4 could retain this charm while pivoting to a multiplayer model.
Live-service games often include microtransactions for in-game clothing, weapons, and abilities; additional side stories and missions to increase the game's scope; and contentious "loot boxes" that can be purchased with cash and contain randomized rewards. While 2K could find a way to make these services work with BioShock, it's hard to see how it wouldn't water down the series' legacy. Bethesda's poorly received Fallout 76 release is a prime example.
The publisher took a legendary, single-person RPG and tried to remix it into a multiplayer service experience. The result was one of the worst game flops in recent memory, which was only made worse when Bethesda added a subscription model. Forbes called it a "huge, rare, total miss" and IGN it failed to do anything while trying to do everything.
2K's job listing seems like it also wants to reach for the stars by trying to combine compelling narrative with a service-driven model. This strategy might result in a half-baked story that risks alienating longtime BioShock fans.
__
* 2K Games has yet to confirm BioShock 4 is in development.