'Elric Saga' TV show will be like 'Dragon Ball Z' in Westeros — but weirder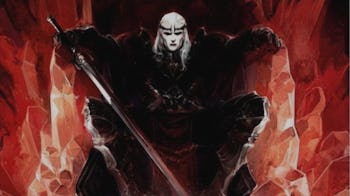 Michael Moorcock
Game of Thrones left a major gap in the television landscape and networks are scrambling left and right to figure out how they can fill it. From HBO's recent adaptation of His Dark Materials to Amazon's upcoming billion-dollar Lord of the Rings show, the race is fully underway. Today, it was announced that a dark horse has entered the peak TV arena, and it'll be one to keep an eye out for as the quest to find the next Thrones continues.
Producers Brian Oliver and Bradley J. Fischer have acquired the rights to writer Michael Moorcock's seminal fantasy-horror masterpiece The Elric Saga. The story, which spans books, short stories, graphic novels, and music, follows the journey of Elric, the albino emperor of Melnibone and its last survivor. An accomplished sorcerer, Elric is physically frail and sustains himself on herbs and drugs, though he gains most of his strength from his fearsome sword Stormbringer.
But there's a pretty major catch to wielding this awesome blade. In order to keep Elric alive and thriving, Stormbringer must feed on the souls of men - and takes a toll on Elric's the longer he wields it. He is, in the words of Moorcock himself, a doomed hero. Elric is truly an all-time great fantasy creation and serves as a truly stellar embodiment of the antihero archetype in the genre. To put it in Dragon Ball Z terms, if Aragorn is Goku, Elric is Vegeta.
Film and television are, at this point, pretty much the only mediums Elric has yet to appear in. It's understandable, as a proper Elric adaptation would have to be unabashedly weird. The tales tend to spin into hallucinogenic fantasy nightmares that don't much lend themselves to mainstream storytelling. Fortunately, the producers of this upcoming adaptation have reached out to some talented writers to helm the show.
Glen Mazzara of The Walking Dead and The Shield will be joined by Prison Break and Star Trek: Discovery's Vaun Wilmott as the primary writers and showrunners. They've got some serious credits to their name and certainly have the skills to pull the adaptation off. No network is in place, yet as the producers plan on shopping the adaptation around soon.
In the quest to find the next Game of Thrones, you can bet your soul that Elric is a worthy competitor. Keep an eye out for this one — it's liable to get weird in ways that other Thrones imitators wouldn't dare.