Noah Hawley's 'Star Trek 4' promises to boldly go to trippy new worlds
The 'Legion' showrunner will show us 'Trek' like we've never seen it before.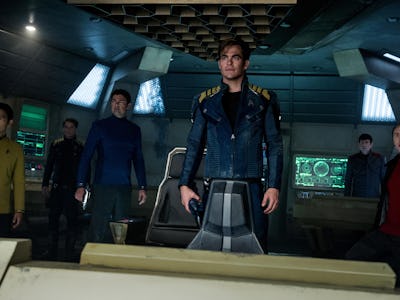 Paramount Pictures
Fans of the 2009 Star Trek cinematic reboot universe were let down last year, when news broke that the planned fourth film in the franchise would not be moving forward. Initially rumored to feature the return of Thor actor Chris Hemsworth as Captain Kirk's father, negotiations reportedly broke down between the studio and Hemsworth (as well as series star Chris Pine). After box office for the reboot's third installment, Star Trek: Beyond, fell short of expectations, it seemed the new Trek universe was dead, despite being a box office juggernaut just a few years prior.
That all changed today when news broke that not only will there be a fourth Trek film, but that it will be helmed by visionary TV director Noah Hawley, who's responsible for both Legion and Fargo on FX.
Let's address the elephant in the room first and foremost: Hawley's first film, titled Lucy In the Sky, came out this year and bombed pretty hard both critically and commercially. The movie followed the story of an astronaut who falls into a downward spiral after returning home. Still, the director has a massively compelling vision, as is evident in his work on television.
Hawley's work tends to invoke narrative and visual abstraction as well as nonlinear storytelling. His stories are, for lack of a more eloquent way to put it, trippy as hell. While the new Trek films have all been pretty watchable, few of them have taken any real risks. (The less said about that Kirk-Spock switcheroo at the end of Into Darkness, the better.) What Hawley will bring to the table in his Trek film is likely going to be a breath of fresh air. It's doubtful he'll have the capacity to go full Legion with this one, but expect some astounding sci-fi visuals and a challenging narrative. Given the late-sixties origins of The Original Series, seeing latter-day Kirk, Spock and the gang explore the more abstract side of Trek seems like a pretty enticing prospect.
Right now we don't know for sure what the film will be about, or if the prior plan to bring in Hemsworth will remain in place. The original cast is believed to be returning though, so fans of Chris Pine's Kirk or Zoe Saldana's Uhura need not worry. Any news of a new Star Trek film is good news as far as we're concerned, especially if it involves an exciting new director coming to the franchise. Get ready. Star Trek 4 is officially coming.
No release date for the fourth Star Trek film has been announced.