The US Military Is Beefing Up Its Cold-Weather Tech
Political tensions over the Arctic are simmering. Will they boil over?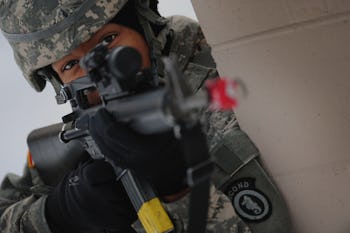 Arctic Warrior on Flickr
The U.S. military just put a call out to private industry and research groups for technology that will help it sink its claws into Arctic territory. The complex is looking for stuff that will work reliably at temperatures down to -60 degrees, including communications and surveillance tech, vehicles, energy systems, and things that will help approach foreign vessels for the purpose of boarding, searching, and seizing.
What should we make of this? Well, tensions are growing between Arctic states as politicians eye the oil and gas resources that have become less impeded by sea ice.
Different countries are posturing in different ways to stake claims to frozen lands. Canada performs a yearly show-of-force in the North, though the U.S. doesn't seem to notice, much. Back in the 1980s, Canada solved the problem of American subs cruising through the Northwest Passage without asking permission by promising to always give permission in the future.
It's more likely, then, that the U.S. military is looking East, to Russia. "The Arctic has always been Russian," declared Russian polar explorer Artur Chilingarov in 2007. President Vladimir Putin's Arctic ambitions are significant, and he's not one to back down from a challenge.
So far, all of this political dick-waving hasn't resulted in stones thrown. But the promises of vast oil riches under Arctic ice have yet to materialize in a significant way, either.
You can bet they're all keeping an eye on Shell's Arctic drilling operations in the Chukchi Sea this summer — if successful, that work could pave the way for oil and gas development on a large scale. Regardless of how it all shakes out, you'd be wise to bet that the U.S. military won't head out underprepared. If there's a technology that will help them get a stranglehold on the Arctic, they'll get it. If it doesn't exist, they'll make it.