New 'X-Files' U.S. Premiere Will Be at New York Comic-Con
In which Mulder and Scully investigate the strange phenomenon known as 'Bronies.'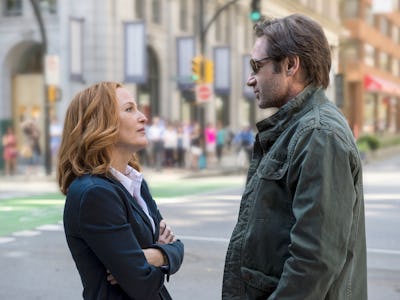 Fox Networks
If you're an X-Files fan, you're definitely psyched for Fox's miniseries revival, but with its TV premiere on January 24th it will be a bit of a wait. You'll be seeing the new Star Wars sooner than the new X-Files. (Side note: 97 days until Force Awakens.) But if you're going to New York Comic-Con, you're in luck.
The pilot of the new X-Files series, starring David Duchovny and Gillian Anderson reprising their iconic roles, is making its U.S. premiere at New York Comic-Con, the largest geek convention on the East Coast, on the afternoon of October 10. Duchovny will join X-Files creator Chris Carter for a Q&A panel after the screening, hosted by Kumail Nanjiani, the Silicon Valley star and host of the Indoor Kids and The X-Files Files podcasts.
If you're going to New York Comic-Con and happen to be a big X-Files fans, awesome! Cookies for you. If you're not, then don't even try to get tickets. They sold out within an hour of going on sale earlier this summer, even as the onrush of buyers crashed the site.