Kevin Feige confirms three new Disney+ characters will appear in MCU movies
The mistakes of the Marvel-Netflix relationship will not be repeated.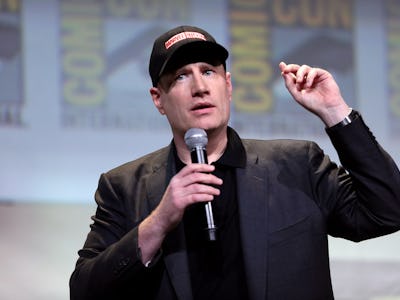 FOX
As MartyBowl 2019 rages on and the debate over the soul of modern cinema continues, it's easy for big news to get lost in the noise. Such is the case in a recent piece from The Hollywood Reporter. While the primary focus of the story involves Marvel Cinematic Universe mastermind Kevin Feige responding to acclaimed director Martin Scorsese's comments on the current state of Marvel movies, a far more interesting tidbit is buried further down in the story.
Interconnectivity has always been the primary appeal of the MCU, a promise that never quite came to fruition over the course of Marvel's relationship with Netflix. Ideally, the worlds of TV and film would have collided, with the Defenders sharing the screen with the Avengers, but it never ended up working out. Feige has now confirmed that Marvel's Disney+ plans won't fall short on that front.
The company has announced a litany of shows for the streaming platform over the last few months, some of which feature characters established in the films and others that will introduce new heroes to the MCU. It was made clear from the start that these shows would intersect with the films, but we now have more concrete details on which characters will be making the transition.
Feige has confirmed that Moon Knight, Ms. Marvel, and She-Hulk will all be making the trip to the big screen after their shows premiere. There's no telling what the context of this will be, as we don't know what the next major Marvel crossover will be, or when it will happen. But if Feige says these characters will come to cinemas at some point, we're inclined to believe him.
It feels safe to assume Ms. Marvel will appear in Captain Marvel 2 in some capacity, though her involvement may not be limited to that film. It's a bit tougher to make that call for Moon Knight or She-Hulk. She-Hulk feels like a lock for any movie featuring her cousin, Bruce Banner. But we still don't know when we'll see him next in the MCU. Still, seizing the opportunity to have two Hulks onscreen feels like an easy call.
Keep an eye on Disney+, which debuts this week, for updates on when we can expect to get to know these characters before their big-screen debuts.
The Disney+ streaming service launches November 12.