InterDrone Put the World's Greatest Drone Photographers Under One Roof
Aerial imaging is having a moment. These are the artists behind the renaissance.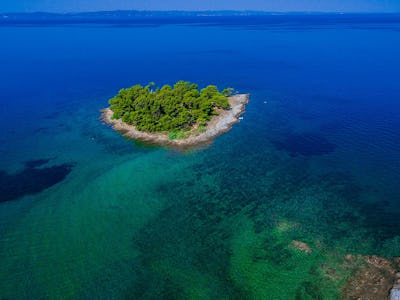 Giannis Zarzonis
This week marks the 2015 InterDrone Conference in Las Vegas, where experts, industry moguls, and just plain old enthusiasts from around the country come together to talk the wondrous world of UAVs.
The point of the spear, as far as popularizing drones goes, is aerial photography. UAVs give artists the opportunity to rotor their way to new perspectives and sweeping views. Images taken from height have revolutionized how we consider war, agriculture, and even shipping, but sometimes they are — more than anything — beautiful. And the authors of that beauty were at InterDrone this week to speak about their emerging art form and push for further innovation.
These are the pilots leading the photographic charge.
Randy Jay Braun
Braun is DJI's director of product experience. The Maui-based photographer has worked with drones for 30 years. Although commercial drones are fairly new, Braun has been at it for long enough that he literally wrote the book, Aerial Drone Photography.
Eric Cheng
The award-winning San Francisco-based photographer has placed his work in many outlets, ranging from Wired to The Washington Post and The Wall Street Journal. Cheng has had his hand in drone photography since the early days, consulting with engineers to create photo-ready fliers.
Parker Gyokeres
Gyokeres is the owner, pilot, and overall man-in-charge of Propellerheads, an aerial photography company that offers services to businesses and individuals around the world. He's a former U.S. Air Force Photojournalist, so certainly piloting a drone in the air to snap a couple of images is hardly a feat. But as you can see through his work, Gyokeres is quite good at what he does.
Dronestagram
Now Dronestragram isn't a person — it's a website founded by French entrepreneur Eric Dupin, who's at InterDrone as a judge for the conference's film festival.
Dronestagram compiles user-submitted drone pictures from amateur photographers all around the world. It's definitely a site worth keeping up with, especially if you're looking to break into aerial photography and want to get in touch with a community that can help you hit the ground running.
So Dupin isn't technically a photographer, and chances are most of the photographers who've submitted to Dronestagram are probably not at InterDrone. But we'd definitely be remiss not to show you guys some of the glorious pics found on the site.