Karl Urban teases sooner-than-expected release date for 'The Boys' Season 2
The actor confirmed on Instagram that he's done filming the latest batch of episodes.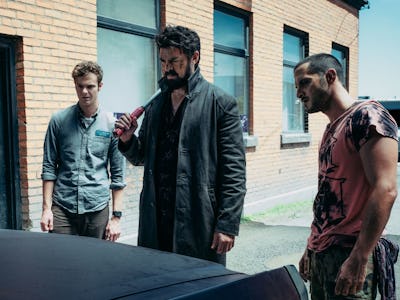 the boys amazon
It's safe to say that The Boys was the breakout streaming hit of the summer. The show's first season, which tracked the origins of a black-ops team who task themselves with keeping the superheroes of their world (who are prone to misbehaving) in line, was met with great reviews and became quite the hit. It was renewed for a second season before the first even premiered, so the return of Billy Butcher and the crew has been guaranteed for a while.
However, a return date hadn't been announced until this week. While there's still no hard date confirmed, an Instagram post from Karl Urban has confirmed a timeframe in which we can hope to see the show return to Amazon with new episodes. In the post, Urban says he's wrapped filming for the second season.
While the show has a relatively substantial ensemble, his character Billy Butcher is one of the primary focuses of the story. While Jack Quaid's Hughie may be the lens through which we view the world of The Boys, Urban's menacing Billy Butcher is very much a primary focal point of the story. He's the driving force behind the group's reformation and, as it turns out, has some very personal beef with the supes, as we find out later into the series. His vendetta is one of the primary narrative threads that holds the story together. All of this is to say that if Urban is done shooting, it's safe to say all of the Season 2 filming is probably pretty close to completion.
Furthermore, Urban confirms in the caption that The Boys will be returning for its second season in mid-2020. This could mean that, in keeping with the release date of the first season, we could be seeing it come back around the middle of the summer. However, given the success of the first season (and how close they seem to be to wrapping up filming) it could end up being a bit earlier — perhaps as soon as May, even.
You've still got a few months to catch up on The Boys Season 1. Expect the show to return around spring or summer of 2020.