Picpal, a Photo Sharing App, Reimagines Instagram as Group Chat
You can already send photos via text, Snapchat, or email. Where does Picpal fit in?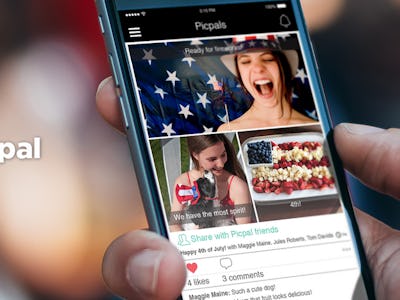 Twitter.com/Picpal
Consider Instagram a sec. The Facebook-owned goliath of photo sharing social media apps boasts more than than 400 million users — a huge number! — who share more than 80 million photos and videos a day. That's another huge number! But it's also only 20 percent of that first number. That means a great number of Instagram users are lurking, not really using the app to share pics, perhaps because they don't much care to broadcast their photos to the world at large. Maybe there's room for another sort of photo app? Or maybe people are content with Snapchat and SMS, and honestly have better things to do than take photos of every last crumb of their days.
Picpal aims to find out. It's a new mobile photography app from Texas-based developers Myndbee that combines the ironic intimacy of a group text with the immediacy of Snapchat, to create something like a collaborative Instagram. You take a picture, share it with your #squad, they add to it, and BAM. You all now have an instant, shareable collage.
This could be really huge, or really redundant. Here's an example the company offers:
To an extent, you've seen this trick before. "The fundamental premise is that you want to share what you're doing at that moment," app co-founder Mahesh Rajagopalan, of Myndbee, tells me by phone. Sounds a bit like Twitter, right? Or Instagram, or Snapchat, or Facebook. But Rajagopalan thinks the scope of smartphone photography can be smaller, and valuable, when it's ostensibly a two- or three-person visual conversation. "It's really about building your social interactions around shared moments with friends," he said. "With us, it's about a visual representation of what's happening to me and my friends, and make that the central thing to share."
The idea for Picpal started from late-night hours coding other software. Rajagopalan and his co-workers sat surrounded by their work, flowcharts and whiteboards covered in faded ink. Rajagopalan recalls a co-worker saying to him, "It'd be awesome if I could just send a picture of what I'm doing right now to my wife." He could have texted her, but his co-worker took a left turn with the notion: He also wanted to see what she was up to at the same moment. They realized that instant snapshot of a shared moment was something their smartphones couldn't yet do.
But is that extra step enough? In taking what would have been an incremental Instagram update and winnowing it down to a tiny audience, is Myndbee overestimating people's need to share? Isn't texting or Snapchat good enough? I decided to find out.
I took Picpal for a spin, snapping shots of late-night dinners and selfies to friends, and I understood what Rajagopalan and his team were trying to get to. Impromptu, spur-of-the-moment collaboration is warmly sentimental. I also fear it may not be enough to distinguish the app.
Here's what you need to know about Picpal:
It's available for iOS and Android.
Like Instagram, every photo you upload can be tinted with filters. PicPal comes with its own set.
Unlike Instagram, individual Picpal collages can't be embedded or individually linked. (But they can be saved.)
Like Snapchat, you can add text and emojis over your individual photo and send it to a friend.
Friends have a whole day to contribute to the collage before it expires. Whether they meet this deadline is a 1:1 measurement of how much they love you.
Like other mobile apps, Picpal piggybacks from Facebook logins and your phone's contact list — standard procedure in 2015. "We picked Facebook because everybody is on Facebook," Rajagopalan tells me.
Each group can have a total of four people. Rajagopalan says this will change, and acknowledges the small number as a technical limitation. "In the next release we're going to eight," he said. "Theoretically [more] is a good idea, but right now we've seen that we can get to eight-person [groups] … and create an awesome experience."
The user interface is messy. The bottom "Start" button is accompanied with a wide blurred bar that takes up like one-eighth of the real estate. Makes the screen feel crowded.
You can — ready for this? — like and comment on collages.
During our conversation, Rajagopalan was optimistic. I asked him what Picpal's signature hook would be, in an already crowded marketplace.
"When I talk [about Picpal], this notion of 'Oh, I can be together even when I'm not, and all in a single picture?' is very wishful," he responded. "I've never seen [Picpal] … as a photo app, but more as a group status sharing."
Rajagopalan also recognizes the value in intimate, private moments with friends over public sharing. In a sense, Picpal is the first introverted social app. "Those more intimate moments can be absolutely spontaneous, and you may choose not to share them."
And he was right. One of the glimpses of brilliance I saw in Picpal was this collage I made with a friend.
It's an inside joke. Another friend who agreed to experiment with me had arrived home to mozzarella after we had spent the evening drinking and joking about Italian cheeses, and me craving said cheeses. I was in my kitchen when she sent a photo. I happened to be making a sandwich. So I grabbed some Smucker's and snapped a pic.
This immediate, among-friends moment reminded me of the wonder Snapchat had at first "Send." But unlike Snapchat, it doesn't feel diluted. My photos and hers were to each other. You can't always tell if a Snapchat from your best friend was meant just for you.
Picpal operates surprisingly smoothly, but its interface needs work (that blurred bottom bar really bothers me) and it needs to articulate what it does better than anything else. Instagram, Snapchat, and group texting have already had us sending pictures for a long time. What will it take for us to do all those things at once?