'The Flash' Season Two Teaser Shows Off Jay Garrick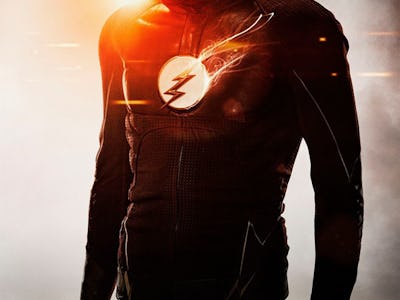 The CW Networks
Fall TV is upon us and so is the flurry of its marketing. The first teaser trailer for the show's second season on The CW is here, and it shows off another speedster from DC comics lore, Jay Garrick.
Last year, The Flash blazed onto TV and in a few ways became a better show than the series it spun-off from, Arrow. In the season finale, a throwaway gag with Garrick's goofy helmet turned out to be heavy-handed foreshadowing, and now Garrick's Flash (played by Teddy Sears) has arrived in Central City.
There's a lot of exposition packed in this teaser, which is shorter than 30 seconds long. Besides Jay Garrick making himself known, the portal opened up in the season one finale is now the source of superpowered bad guys that Barry Allen will have to run down. Former WWE Champion Edge is playing a significant guest role, the villain Atom Smasher, and his gruff voice closing off the trailer is all kinds of exciting.
The second season of The Flash premieres October 7th.